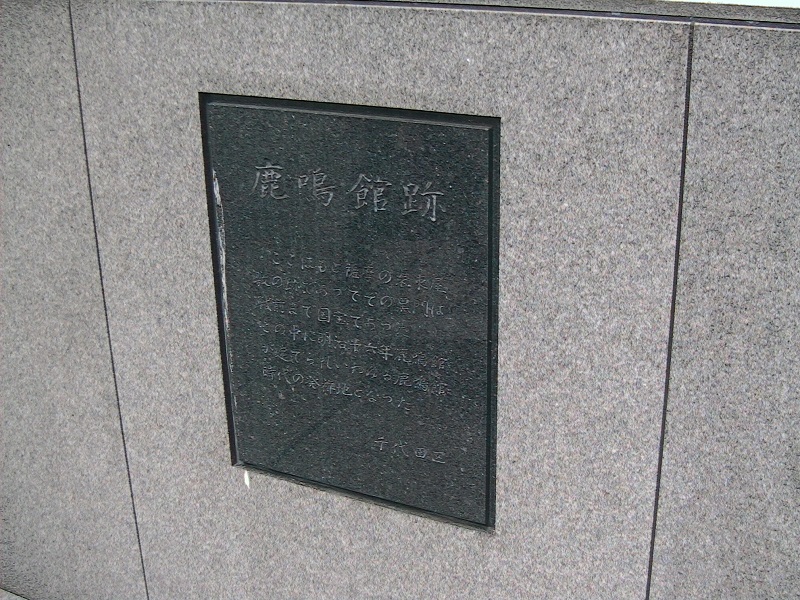 INFORMATION
address

1-1-7, Uchisaiwaicho, Chiyoda-ku, Tokyo

access

2-minute walk from Subway "Uchisaiwaicho Sta." Exit A5
Constructed to facilitate the revision of the Unequal Treaties. The "Rokumeikan", a place of socializing that symbolized a whole period of the Meiji Era.
The Rokumeikan was constructed in 1883 - the sixteenth year of the Meiji Era - as a place of socializing for the Government and Japanese aristocracy. In the present day, at the boundary between the Imperial Hotel and the Hibiya U-1 Building, where the building once stood, is the "The site of the Rokumeikan" stone marker. The marker tells of the history of the place:

"The site of the Rokumeikan

On this spot stood the Shozoku-yashiki, premises of the Satsuma clan, the site of which, along with the Kuro-mon gate, were designated a national treasure before the war. The site was used for the construction of the Rokumeikan in 1883, and thus became the birthplace of the so-called "Rokumeikan Era".

Chiyoda City"
The Rokumeikan was planned by the then Foreign Minister INOUE Kaoru, with the purpose of speeding up the revision of the Unequal Treaties. INOUE insisted that the revision of the treaties depended upon demonstrating to foreigners that the Japanese had taken on and adapted to western culture. Designed by the British architect Josiah Conder, the Rokumeikan was a two-story brick structure in the western style, set in 11,255 square-meter premises. Inside the building, there was not only a banquet hall but also a Western-style hotel.
After its opening, the Japanese Government and aristocracy used the Rokumeikan to entertain foreign diplomats and business people. Garden parties, balls, grand dinners, and bazaars were held seemingly daily. This era of splendour subsequently came to be known as the "Rokumeikan Era", and the Japanese Government's foreign policy, centered on the Rokumeikan, became known as "Rokumeikan diplomacy". As westernization spread, nationalism became popular, stressing the importance of protecting traditional Japanese culture and traditions, and a fever against treaty revision developed.
Eventually, INOUE Kaoru's attempts to revise the Unequal Treaties ended in failure, and the decision was made to sell the Rokumeikan to the Kazoku Kaikan ("Peers' Club") in 1894. After that, the building was sold to the now Yamato Life Insurance in 1927, and was demolished in 1940.
The Rokumeikan, symbol of a period of the Meiji Era. Make sure you visit "the site of the Rokumeikan", a place that drove a whole era of Japanese history.