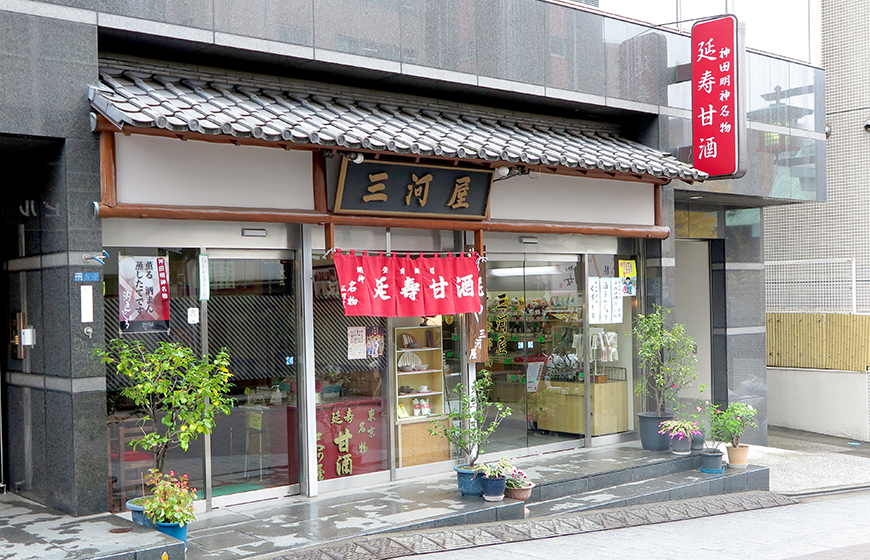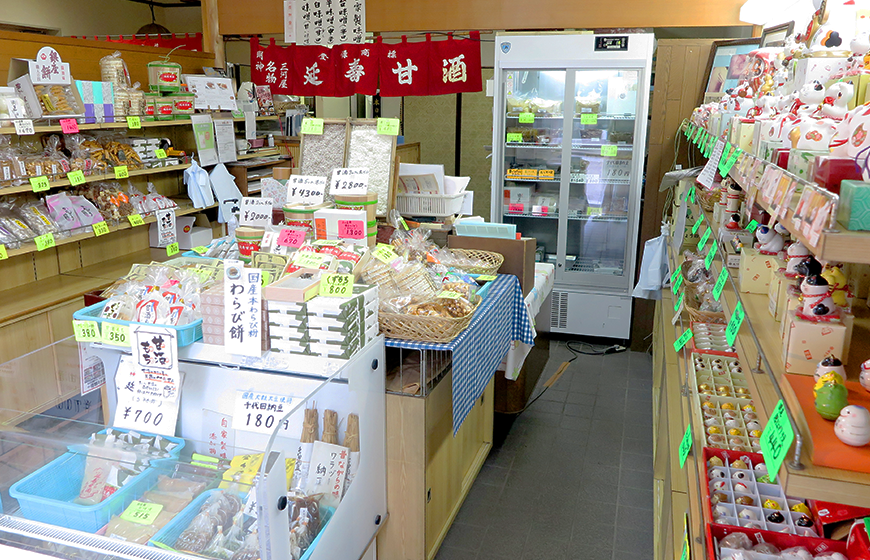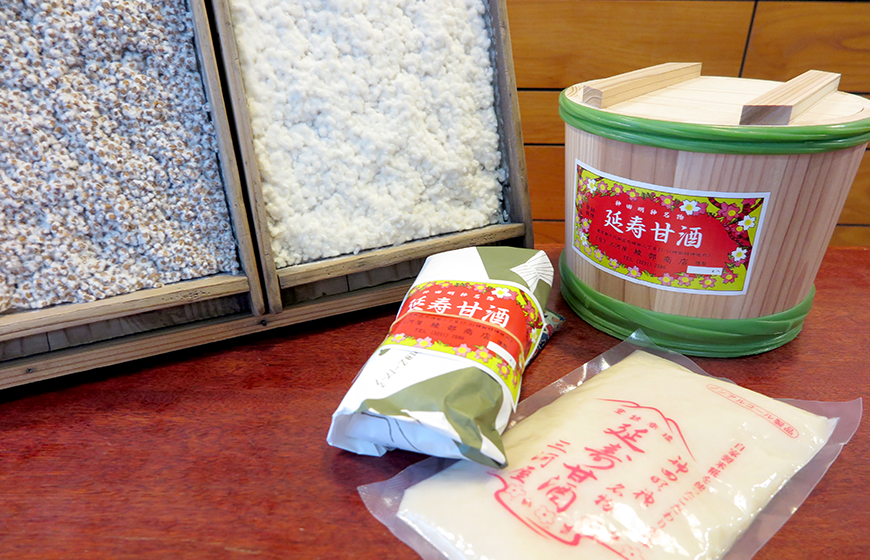 "Homemade rich natto and mild amazake (sweet fermented rice drink) are exquisite.
Mikawaya Ayabe Shoten, established in 1616."
INFORMATION
address

2-17-3 Soto-Kanda, Chiyoda City, Tokyo

tel

03-3251-7086

business_hour

Monday to Saturday 9:00 a.m. - 5:00 p.m.

access

5-minute walk from JR/Subway Ochanomizu Sta. Hijiribashi Exit (or Exit 1)
7-minute walk from Subway Akihabara Sta. Akihabara Electlic Town Exit
5-minute walk from Subway Shin-Ochanomizu Sta. Exit B1
5-minute walk from Subway Suehirocho Sta. Exit 3
"Homemade rich natto and mild amazake (sweet fermented rice drink) are exquisite. Mikawaya Ayabe Shoten, established in 1616."
Kanda Myojin Shrine is located 5 minutes walk from JR/Subway Ochanomizu Station or Suehirocho Station. After going through the big torii gate and walking a while, on your right, you'll see Mikawaya Ayabe Shoten that has been producing and selling koji(mold made from rice) products ever since it opened.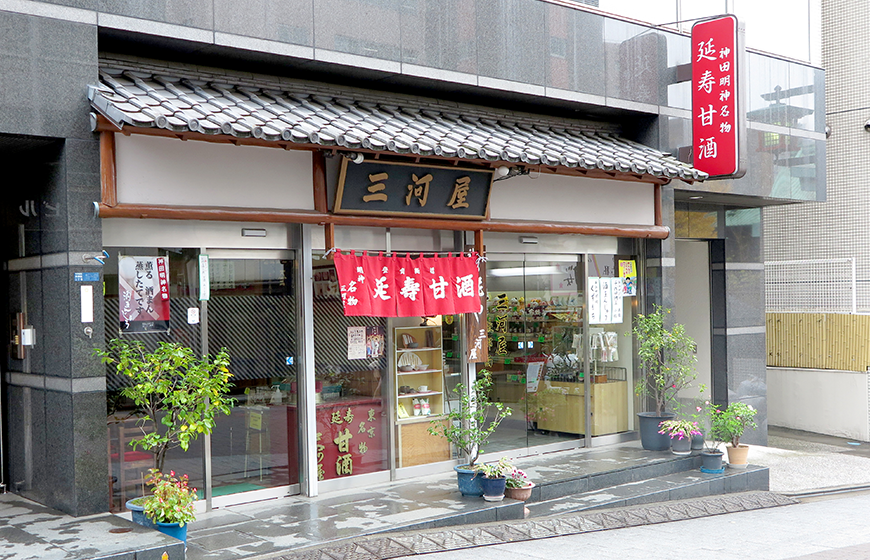 "Mikawaya Ayabe Shoten established in 1616, when Kanda Myojin Shrine was built in the present place. Originally, the founder of Mikawaya Ayabe Shoten was an official merchant of the Tokugawa Shogunate. He went to Edo from Mikawanokuni (Gamagoori City, Aichi today) when the Shogunate moved and built a castle and then he opened Mikawaya Ayabe Shoten close to the present Kanda Myojin Shrine, which was built to protect the demon's gate of Edo Castle. Even today it is open as a well-established store loved by many people."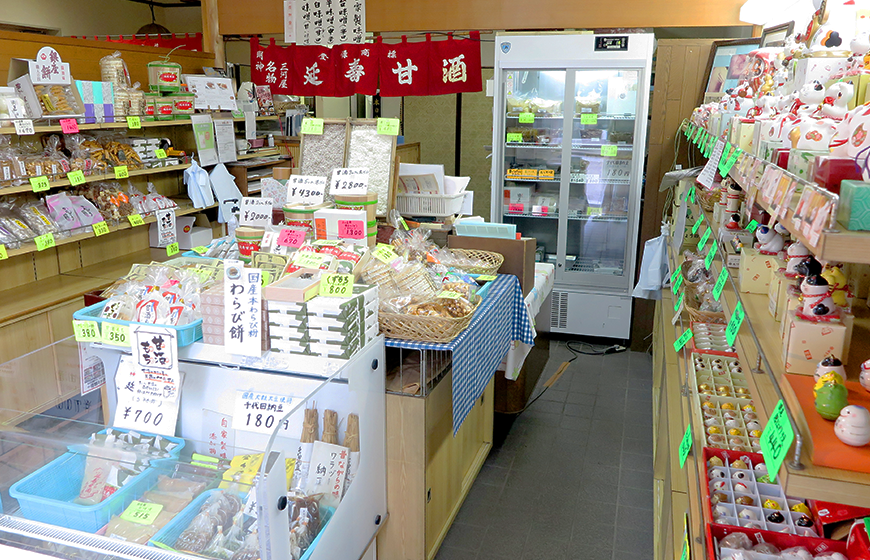 Inside the store, they sell food such as natto, miso and sake manjyu (cake with bean paste) as well as koji products, sweets like Japanese cookies and ornaments like beckoning cats. There are many things to choose from as souvenirs.
The primary product is Enju Amazake, homemade by Mikawaya Ayabe Shoten. Rice koji with delicate work using experienced technique doesn't have unique taste that koji usually has and it tastes mild. Natural sweetness of original koji spreads in your mouth and warms you right to the core. Even people who don't prefer general amazake can enjoy this Enju Amazake.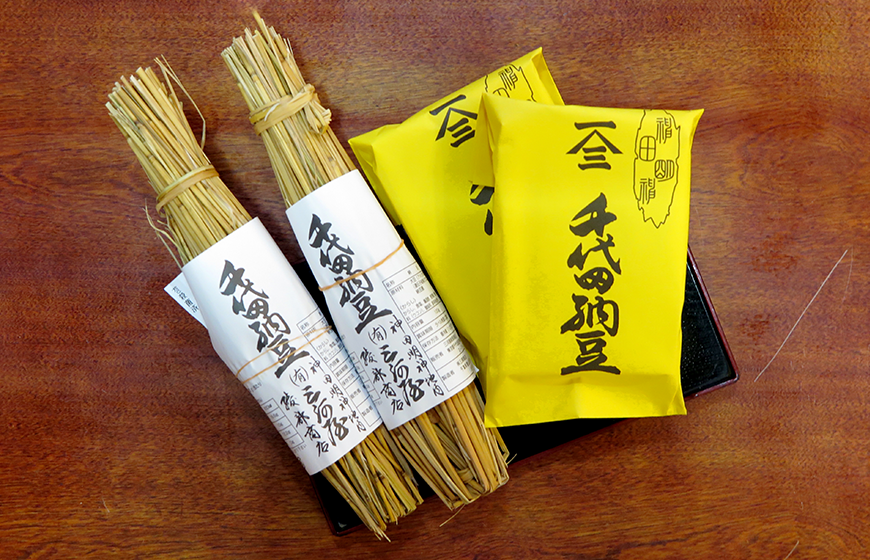 Chiyoda Natto is also their product. Natto in a straw package contains small soy beans and packed natto contains big soy beans. Both products are excellent. You can directly experience delicious taste sensation. If you are a natto lover, do try their exquisite natto at least once.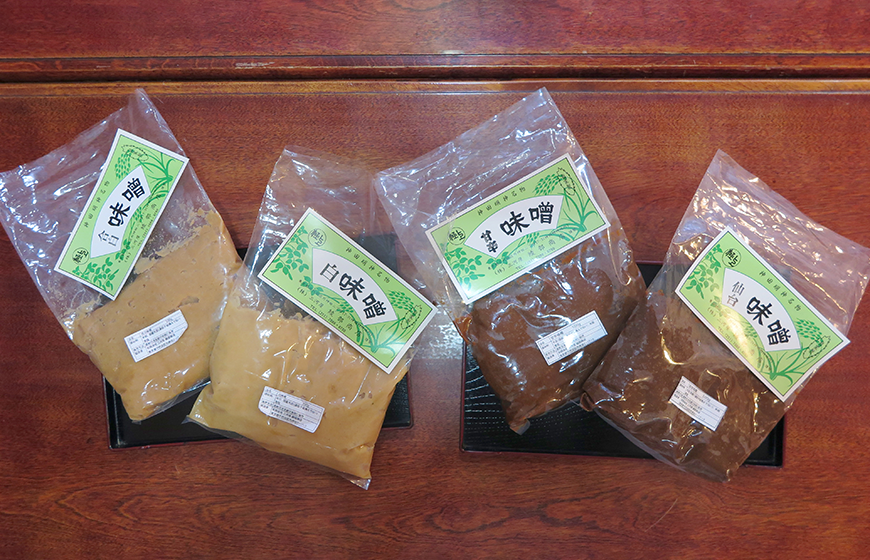 Beside the cash register, they sell four kinds of miso: Awase Shiro miso, Shiro miso, Amakara miso, and Sendai miso. In particular, Shiro miso is a fine product and purveyor to the Imperial Household Agency. Every kind of miso made with traditional production method is fragrant. There are fans who orders their miso from a distance.
The left side inside the store, there is a tea space where 28 people can sit down and you can eat and drink their products. Cream Anmitsu, Tokoroten, and Abekawa with sweetened soybean powder on top as well as their primary product Enju Amazake are served.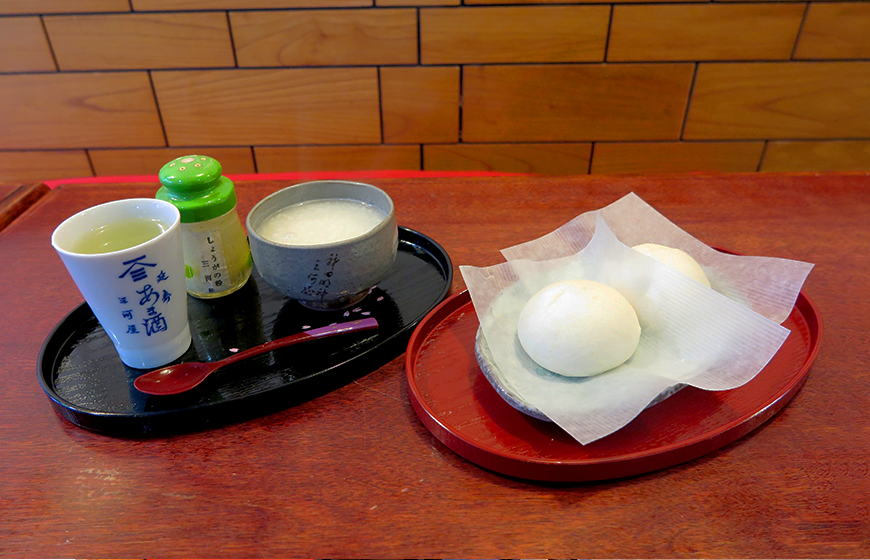 Enju Amazake has mild sweetness and clean aftertaste. You can also taste rice with mild texture scooping with a spoon. If you add ginger power into it to change the taste, it becomes a bit spicy. Sake Manju has a familiar taste with soft and spongy dough and bean paste with simple sweetness.

Mikawaya Ayabe Shoten has a long histry from the opening until today. Their natural food products such as koji, natto, and miso making the most of the material are suitable for gifts. Please visit the store after visiting Kanda Myojin Shrine or if you want to have a rest while taking a walk.
The information is current as of January 2023.