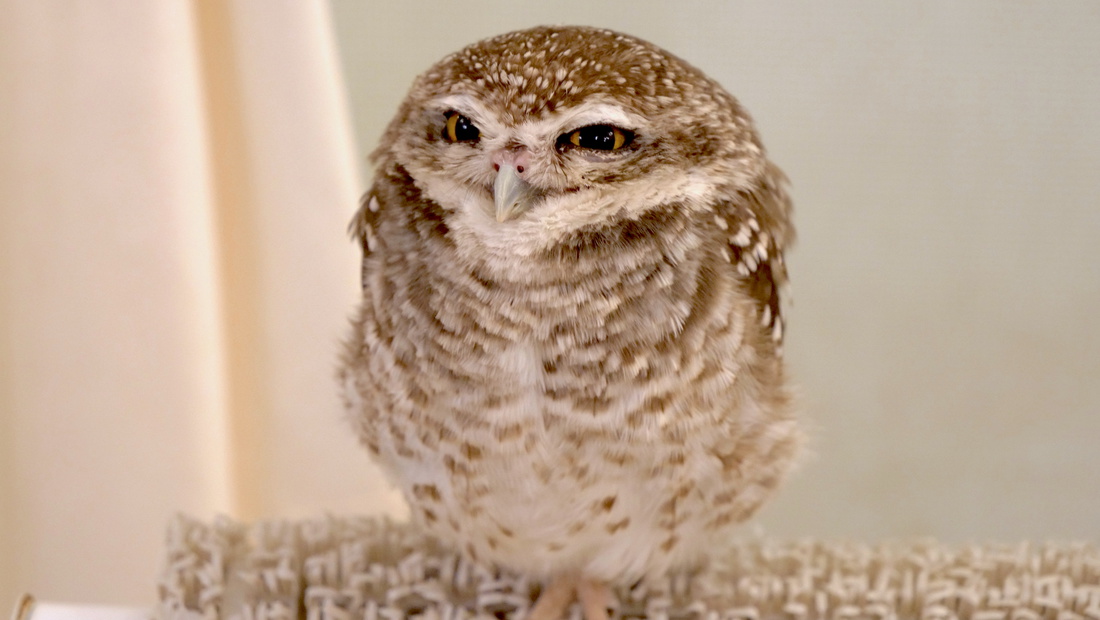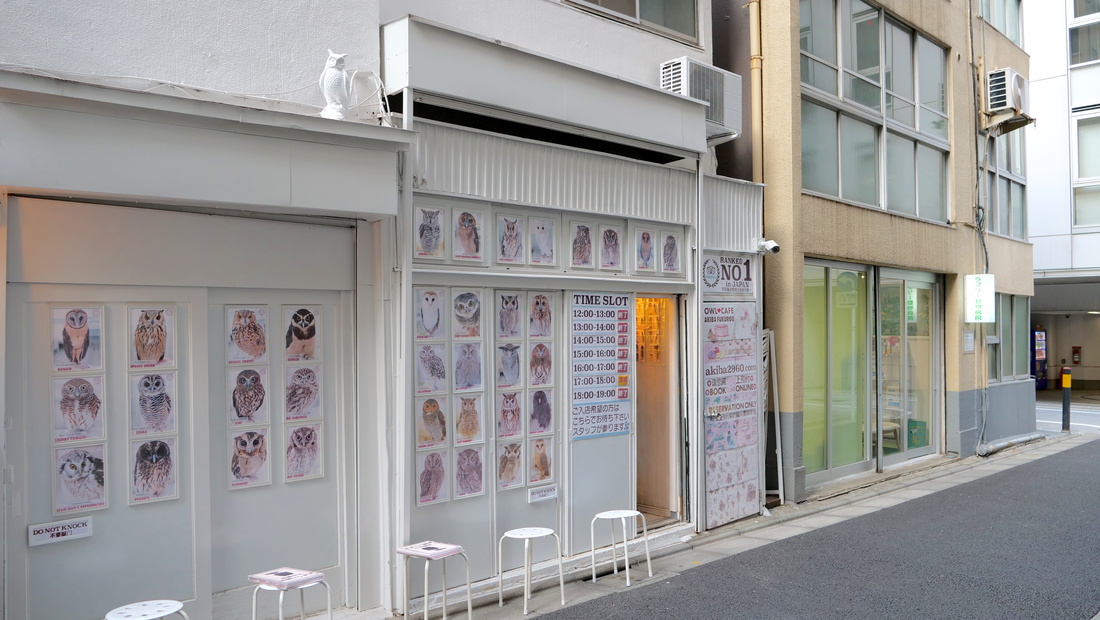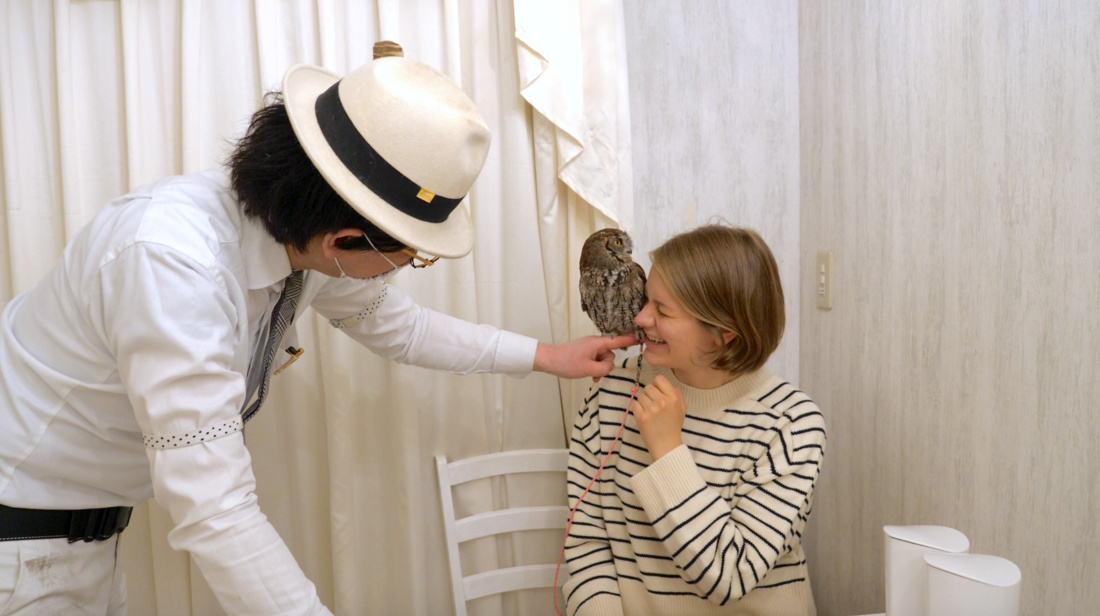 "Akiba Owl Owl Cafe Tokyo" is the ultimate healing space where you can interact with more than 40 owls. The cafe's concept reflects the wish of the owner and his wife to let more people discover the charm and cuteness of owls.
INFORMATION
address

67 Kanda Neribeicho, Chiyoda-ku, Tokyo

business_hour

Weekdays: 12:00-18:00
Saturdays and Sundays: 12:00-19:00

access

About 3 minutes on foot from Akihabara Station
About 8 minutes on foot from Iwamotocho on the Toei Shinjuku Line
About a 6-minute walk from Suehirocho Station on the Tokyo Metro Ginza Line
About an 8-minute walk from Naka-Okachimachi Station on the Tokyo Metro Hibiya Line
Highlight ① Learn about the charm of owls while watching and gently petting them
A thick booklet will be given to customers waiting in front of the store. The booklet contains a lot of interesting information such as how to interact with owls, how the cafe came to life, educating owl Q&A, and an introduction of the owls kept in the store.


You can choose between a Japanese and an English booklet.
This Owl Cafe is a mysterious space where you will realize that owls with their beautiful eyes and long eyelashes are truly magical creatures. That may explain the heeling effect this cafe has. Also, the owls are held in a good environment and are very well cared for. So you can enjoy interacting with the owls without worrying about their well-being.
Although the owl cafe is called "cafe", no drinks or meals are served. It is the ultimate relaxation space with quiet classical music playing where owls come first!
Highlight ② "Mr. President" and "Last Samurai"? The owl's names are too funny!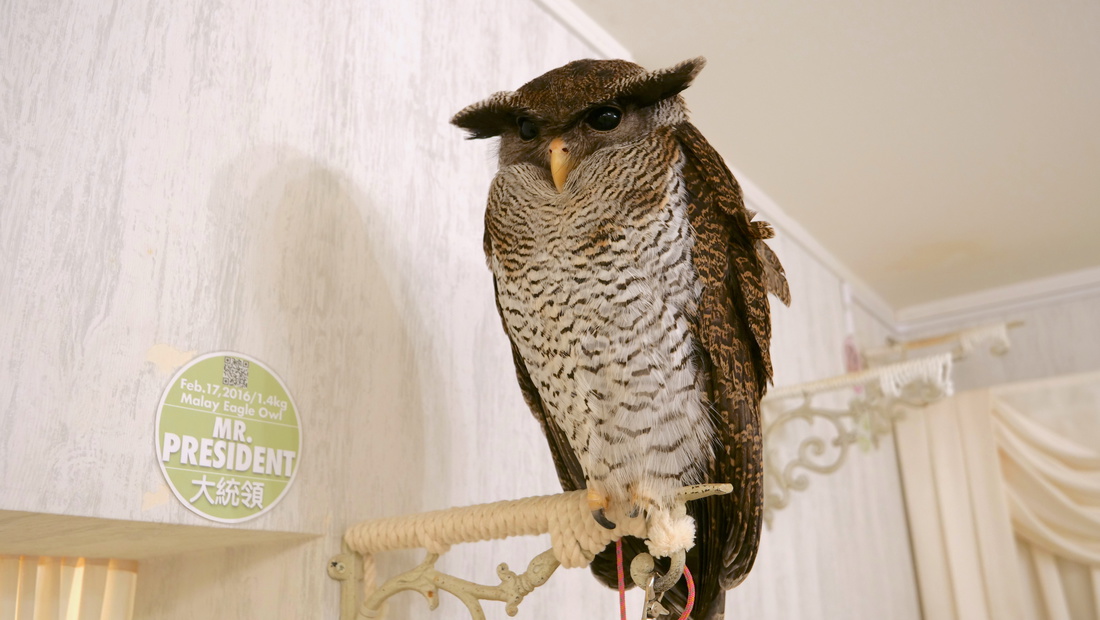 The owls' names are just too creative and funny!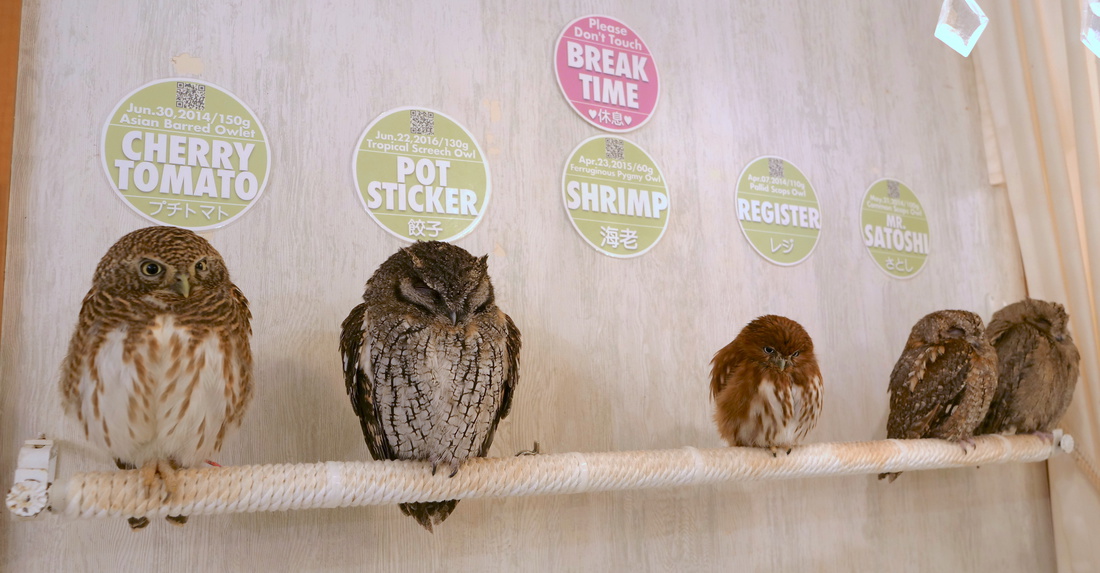 Inside the cafe, the beautiful owls are everywhere! You might be overwhelmed by the number of owls. Their size, color, and pattern are all different. Therefore, you won't get tired of watching them. Moreover, the owls got very unique names named by their owners, such as "Mr. President", "Shrimp", "Rice cracker", "Mr. Yamashita" and "Last Samurai". It's fun just reading all their names. There are booklets at every table containing introductions of the owls, their personalities and characteristics.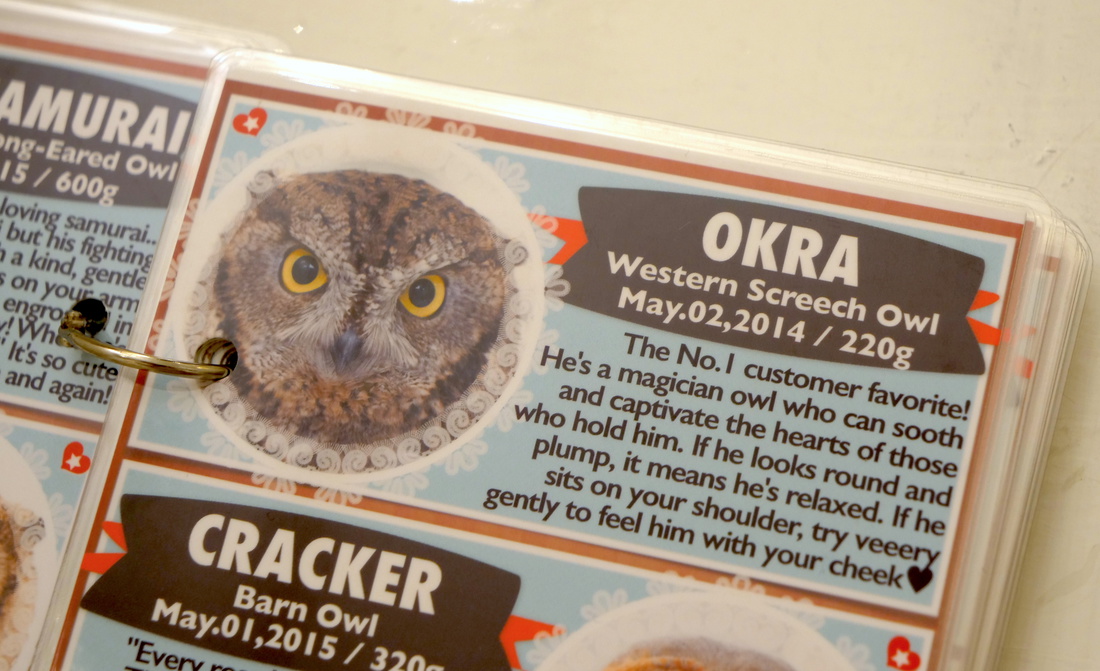 The booklet contains information on every owl.
Highlight ③ Recieve a beautiful photo with one of the owls for free!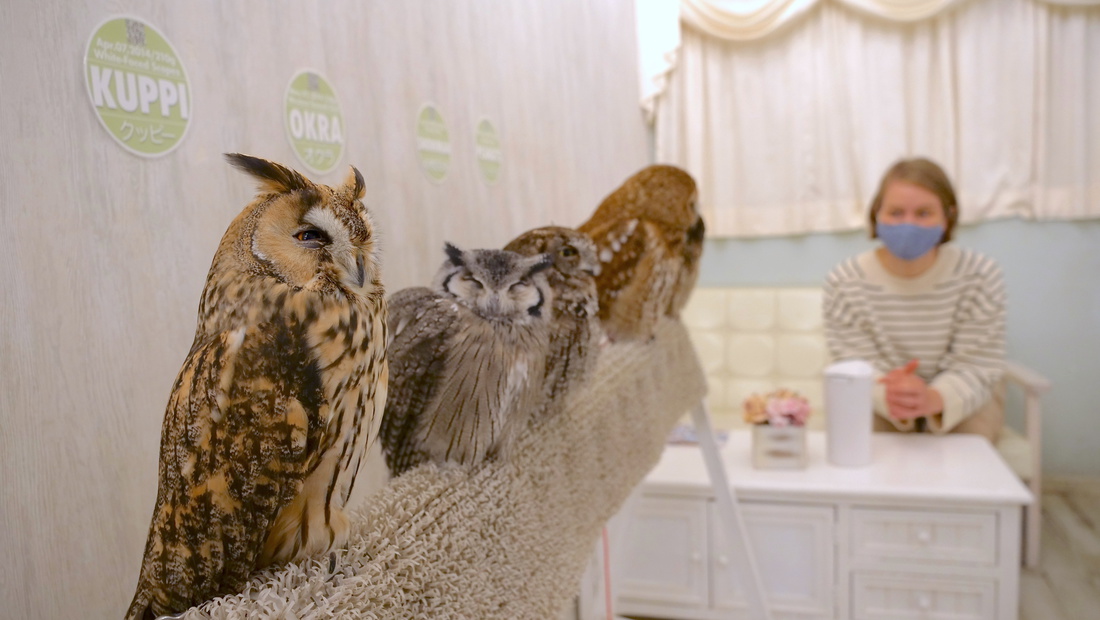 You may walk around freely inside the cafe to watch the different owls, gently stroke your head, and take pictures or selfies with the owls. The highlight of the owl experience at the cafe is having an owl sit on your arm or shoulder. You may choose two owls.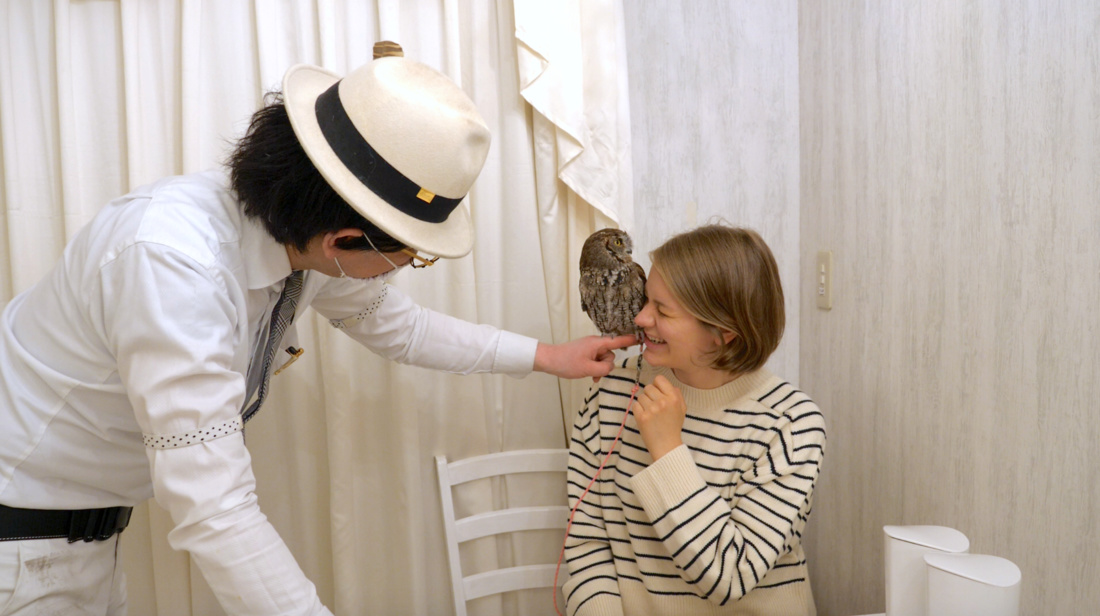 When the owl is sitting on your arm, the owner of the cafe, a former wedding photographer, will take a photo of you with his professional camera for free. Before you leave the cafe, the photo will be gifted to you as a souvenir.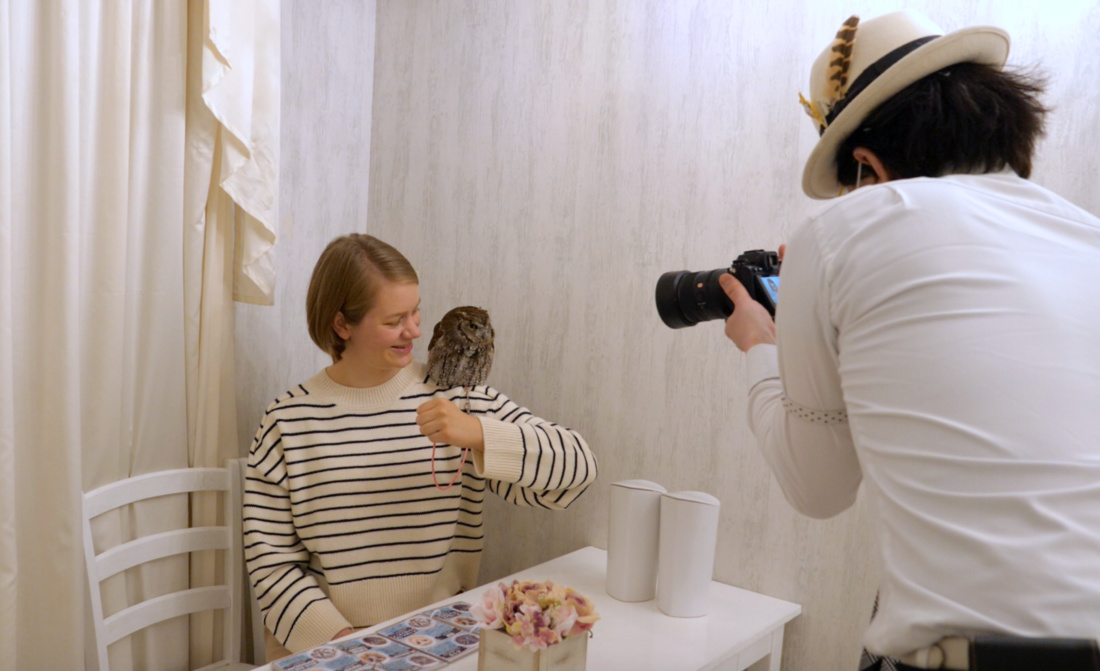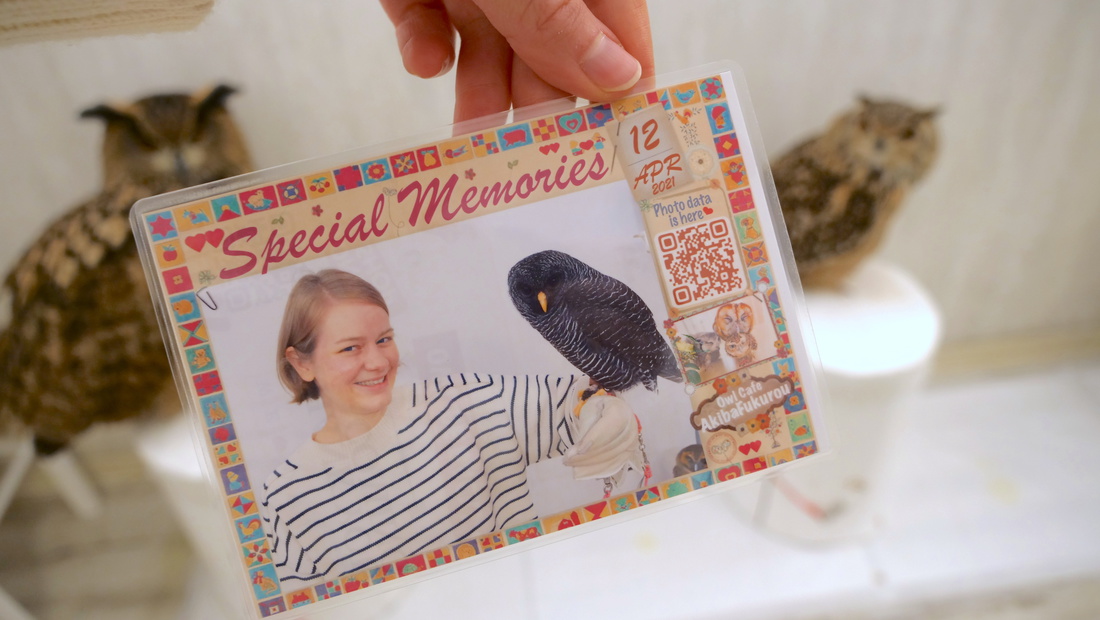 'Akiba Fukurou' is run by a married couple who both love owls. Originally, they kept owls as pets at home, but to spend more time with the owls and provide them a place with perfect "owl conditions", they decided to open an owl cafe in a quiet corner of Akihabara. Since owls don't like noise, this silent space is very comfortable for them. "I want our guests to always remember the time they spent with our cute owls," the owner says.
So how about meeting the owls? Akiba Fukurou is a big recommendation!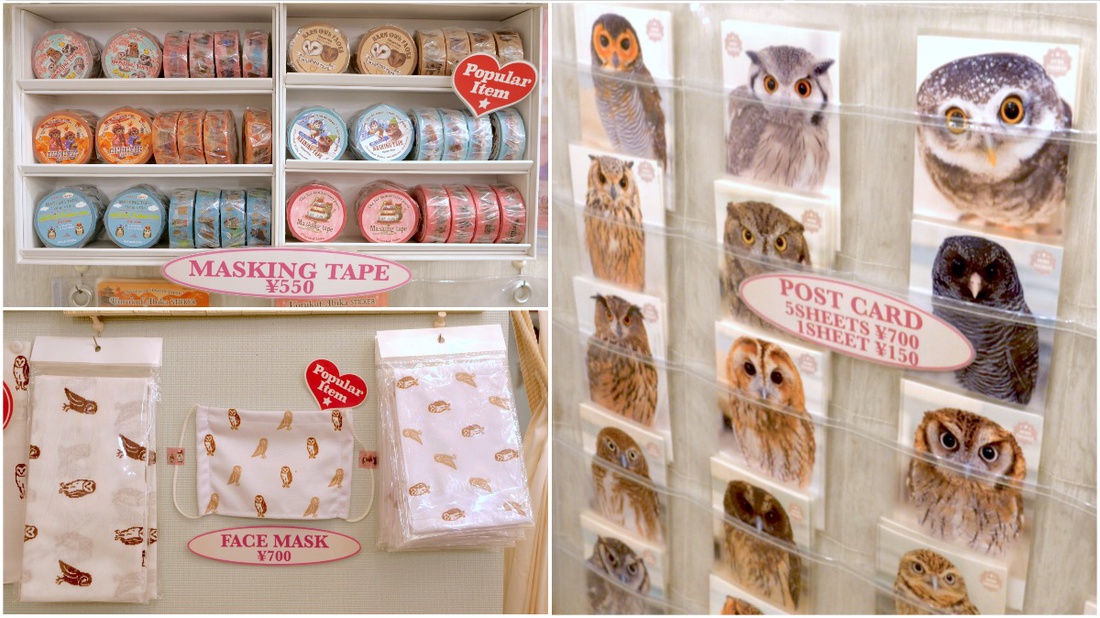 The cafe also sells cute owl items!