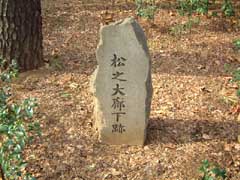 On the left of the remains of the Honmaru, an L-shaped corridor connected the main round hall of Edo castle to the Hakushoin (where the generals faced on another).
A tree now stands where the corridor once was. Matsunoroka Corridor was the scene of a famous incident in which a feudal lord, greivously provoked pulled his sword on someone of higher rank. Following the lord's execution, his samurai planned and carried out elaborate revenge. This formed the basis of the famous Japanese narrative, "The Treasury of Loyal Retainers".
Matsunoroka Corridor is runs 19 meters to the west and 31 meters to the north with a width of 5 meters. It is decorated with paintings themed around pine trees.
INFORMATION
address

Within The East Gardens of the Imperial Palace

access

Tokyo Metro Otemachi Station