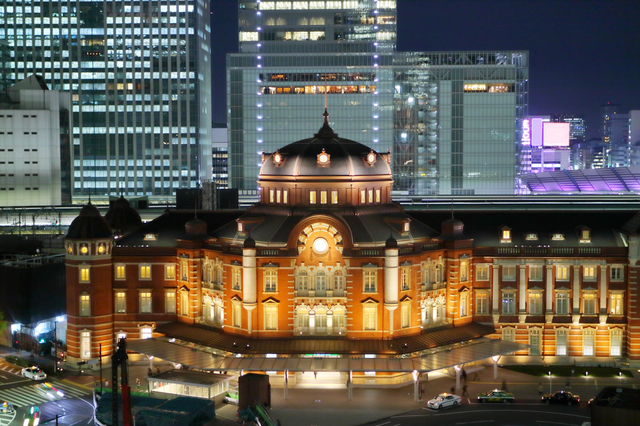 (Important Cultural Property of Japan)
The Tokyo Station Marunouchi Building faces the front of the promenade which extends east from the Imperial Palace. Construction work started in 1908 and was completed in 1914.
Including the north- and south-end rotundas, its massive infrastructure spans 335m and is three stories high.
The Tokyo Station Marunouchi Building is regarded as an iconic symbol of Tokyo, as well as the beginning of Japanese rail system.
As one of the largest pieces of red-brick construction in Japan, it is the culmination of Japanese architecture from its time.
There was originally an enterence reserved for use by Imperial family members. In the past, the entrance and exit were under two separate dome roofs, so passengers had to enter the station at the south entrance and leave through the north exit. The building was heavily damaged during the war and was reconstructed as a two-story building. In 2012, the building underwent a major renovation and was restored to its original glory. Recently, the area in front of Tokyo Station's Marunouchi side was converted into a park leading to the Imperial Palace.
INFORMATION
address

1-9-1 Marunouchi, Chiyoda-ku, Tokyo

access

Within Tokyo Station