【Finished.】

Event duration
SUN
MON
TUE
WED
THU
FRI
SAT
1
2
3
4
5
6
7
8
9
10
11
12
13
14
15
16
17
18
19
20
21
22
23
24
25
26
27
28
29
30
INFORMATION
Date/Time
Wednesday, June 30 to Sunday, September 12, 2021
10:00 am - 6:00 pm
*First part until Monday, Aug. 9 / Second part from Wednesday, Aug. 11
*Open until 9:00 pm on Fridays, second Wednesday of the month,
Jul. 23 to Aug. 1, Aug. 3 to 8, Aug. 11 to 13, Aug. 24 to Sep. 10
*Last admission is 30 minutes before closing time
*Opening days and times may change
Closed
Mondays, August 10 (Tue.)
(Open when a public holiday falls on a Monday, on Jul. 26, Aug. 30, Sep. 6)
Venue
Mitsubishi Ichigokan Museum, Tokyo (2-6-2, Marunouchi, Chiyoda-ku, Tokyo)
Access
5-minute walk from JR "Tokyo Sta." Marunouchi South Gate
6-minute walk from JR "Yurakucho Sta." International Forum Exit
3-minute walk from Subway "Hibiya Sta." Exit B7
3-minute walk from Subway "Nijubashimae Sta." Exit 1
6-minute walk from Subway "Yurakucho Sta." Exit D3 or D5
6-minute walk from Subway "Tokyo Sta." (Connected to underground passageways)
Admission Fees
Adult 1,900 yen / High school and University students 1,000 yen /
Elementary and Junior High school students FREE
*Persons with a disability certificate or similar is half price, and one accompanying helper is admitted free.
*The details how to purchase tickets will be announced on the website when decided.
Organized by
Mitsubishi Ichigokan Museum, Tokyo (Mitsubishi Estate Co., Ltd.),
Seikado Foundation, and Toyo Bunko
Special cooperation
Mitsubishi Economic Research Institute
With the support of
Mitsubishi 150 Year Commemoration Committee
With the cooperation of
Mitsubishi Chemical Corporation,
Tokio Marine & Nichido Fire Insurance Co., Ltd., Nippon Express Co., Ltd.
Contact
Phone: +81-47-316-2772 (English)
Official Website
(Exhibition Website)
https://mimt.jp/kokuhou12
(Museum Website)
https://mimt.jp
The Mitsubishi 150th Anniversary Exhibition
The Treasures of Mitsubishi Collection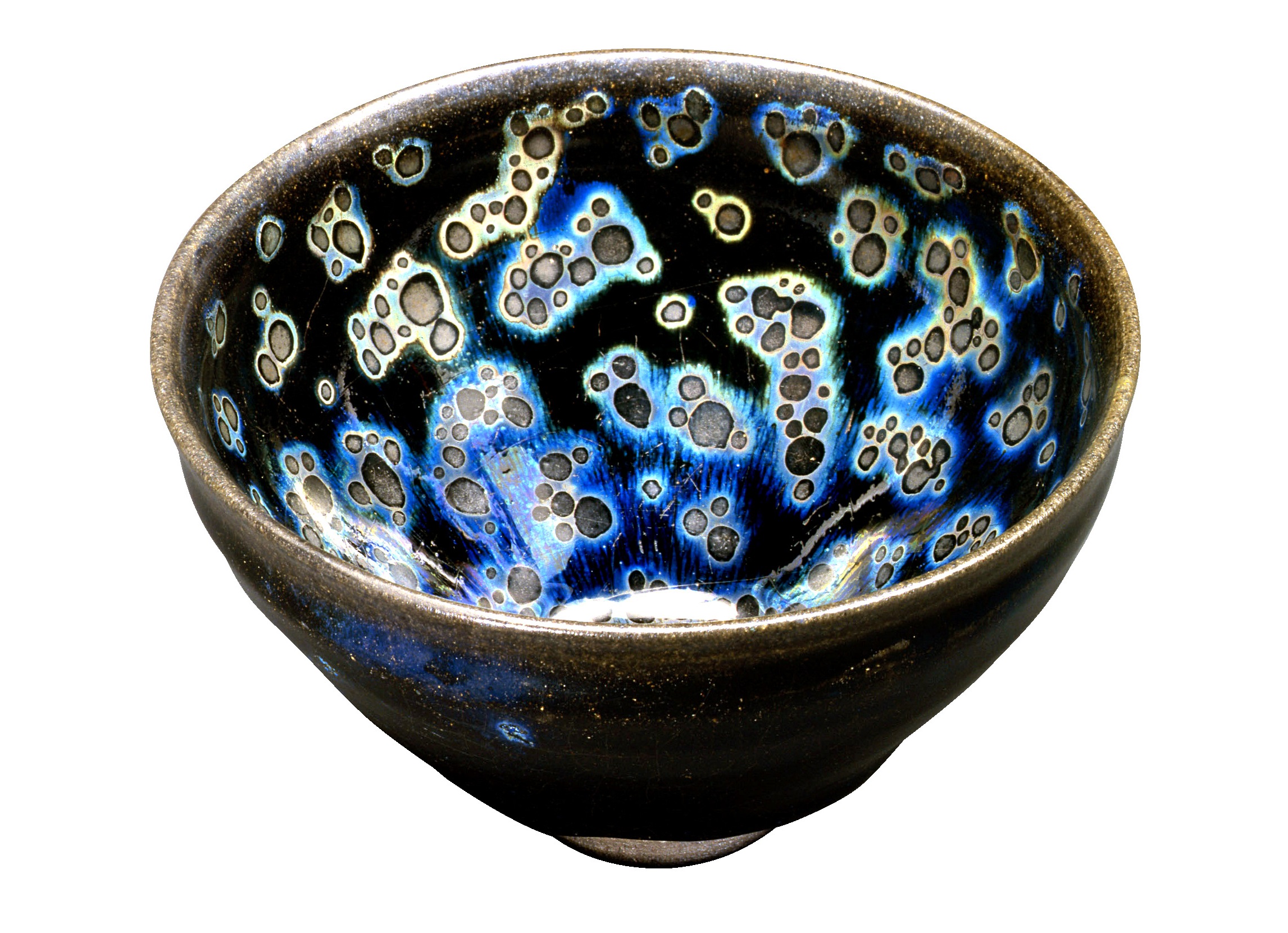 National Treasure《Tea bowl, Yohen Tenmoku, Jian ware known as "Inaba Tenmoku"》Southern Song dynasty (12-13th century), The Seikado Foundation
National Treasure Tea bowl, Yohen Tenmoku There are only three tea bowls of this kind that are known to exist. It is a miracle tea bowl.

Four generations of presidents of Mitsubishi, IWASAKI Yataro (1835-1885), who founded the company, Yanosuke (1851–1908), Hisaya (1865–1955), and Koyata (1879–1945), took a strong interest in cultural properties. Today, their collections are housed at The Seikado Foundation and Toyo Bunko in Tokyo. Keeping company with scholars and artists among their contemporaries, the four men brought a broad perspective to their collecting activities, which they felt should contribute to society. Starting with Yataro, the first president of Mitsubishi, and ending with Koyata, the fourth president, this exhibition traces the history of their social contributions through their support for the research and development of the arts and culture. There are more than one hundred valuable objects on display at the exhibition, which features numerous rare books and fine arts and crafts from the collections at The Seikado Foundation and Toyo Bunko—including twelve National Treasures and thirty-one Important Cultural Properties—as well as items from the collection at The Mitsubishi Economic Research Institute. The exhibition is also an invaluable opportunity to see the collections from The Seikado Foundation and Toyo Bunko brought together under one roof.
3 Highlights

1

Twelve National Treasures including the tea bowl, Yohen Tenmoku and the Maoshi edition of ancient Chinese poetry will be on display.

2

An exceptional collection underpinned by the awareness of social contribution among members of the entrepreneurial IWASAKI family.

3

IWASAKI Yanosuke envisioned the Mitsubishi Ichigokan. His heir Koyata expanded The Seikado Foundation, while IWASAKI Hisaya established Toyo Bunko, the largest Asian studies library in Asia. The masterpieces brought together from both institutions illustrate the passage of time.
Twelve National Treasures on display!
National Treasure: "Channel Markers" (Miotsukushi) and "The Barrier Gate" (Sekiya) of the Tale of Genji
Daigoji Temple in Kyoto presented it to YANOSUKE as a token of gratitude for the donation. A bold Genji painting, unique to TAWARAYA Sotatsu.
Exhibition period: Aug. 11 to Sep. 12

  National Treasure Fuusansuizu 
A violent wind and rain swirl around the screen. It is attributed to Ma Yuan. It is a masterpiece of landscape painting from the Southern Song dynasty in China.
Exhibition period: Jun. 30 to Aug. 9


National Treasure Tachi sword by Kanenaga
The only national treasure of Nara swordsmith Kanenaga, founder of the Tegai school. A masterpiece of the Kamakura period with a dignified appearance.
Exhibition period: Jun. 30 to Aug. 9





Highlights
Left   Tsukumo-nasu        
  
Right  The Travels of Marco Polo



60's male

2021-08-20 08:22:35

素晴らしい展示会でした。国宝の曜変天目には吸い込まれるように見させてもらいました。本物見て感激です。源氏物語の屏風や刀剣、東方見聞録も本物見て感激しました。三菱ファミリーの文化財保存の強い意向と高い志にも感激しました。広報が行き届いていなのか知らない人が多いかと思いますので会期延長してもいいかと思いました。