【Finished.】



Event duration
SUN
MON
TUE
WED
THU
FRI
SAT
1
2
3
4
5
6
7
8
9
10
11
12
13
14
15
16
17
18
19
20
21
22
23
24
25
26
27
28
29
30
31
INFORMATION
Date/Time
Saturday, July 17 to Sunday, September 26, 2021
10:00 am to 6:00 pm (8:00 pm on Fridays)
*Last admission is 30 minutes before closing time.
*The details of the exhibition are subject to change in order to prevent the spread of the new coronavirus.
*This exhibition will be held only at this museum.
Closed
Jul. 19, Aug. 10, Aug. 16, Aug. 23, Sep. 6, Sep. 13
Venue
Tokyo Station Gallery (1-9-1, Marunouchi, Chiyoda-ku, Tokyo)
Access
In front of the ticket gates at the Marunouchi North Gate of JR Tokyo Station
Admission Fees
Adults: 1,200 yen
High-school and university students: 1,000 yen
Junior high-school students and younger: Free
*Individuals with a disability certificate or similar receive a 100 yen discount, and one accompanying helper is admitted free.
*Tickets can be purchased from Lawson Ticket(L-code=36117, 36118, 36119).
Organizer
Tokyo Station Gallery (East Japan Railway Culture Foundation)
Contact
Phone: 03-3212-2485
Website
http://www.ejrcf.or.jp/gallery/english/
Ainu Woodcarver FUJITO Takeki Envoy of the Forest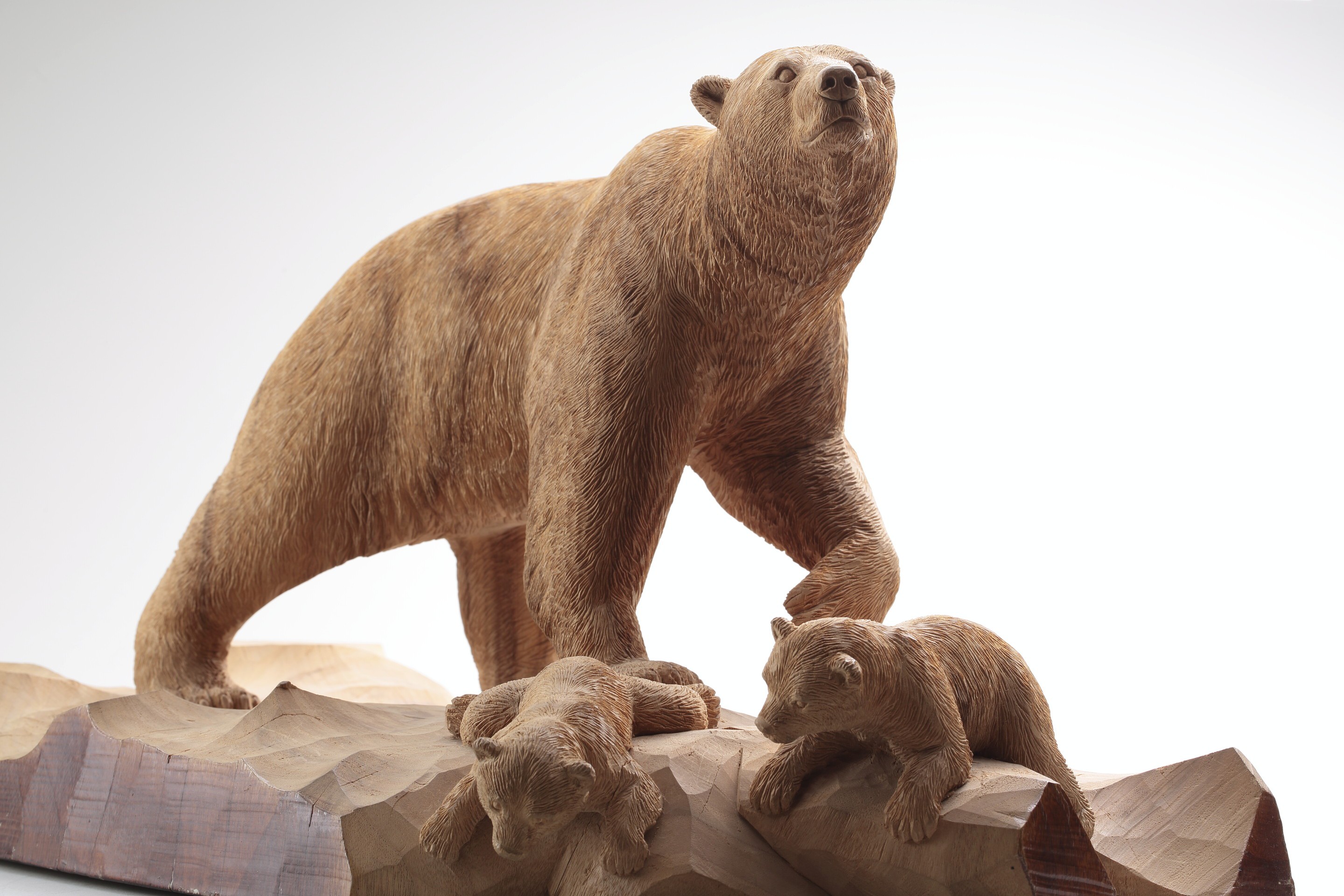 FUJITO Takeki (1934–2018) was born to Ainu parents in the northeastern Hokkaido town of Bihoro and was raised in the city of Asahikawa, in central Hokkaido. From around the age of 12 he began carving under the tutelage of his father, who was among the first Ainu bear carvers of the early twentieth century. The junior FUJITO eventually settled in the hot-spring town of Akanko, where his work flourished on the shores of Lake Akan.
At once unrestrained and nuanced, FUJITO's distinctive style unites seemingly opposite qualities in woodworks that are robust in their appearance yet somehow gentle in their expression. Whether carving one of his signature bears or some other animal, he would work at a fast pace, single-mindedly focused on the piece. That concentrated energy seems to have transferred to his creations. Caught in some stop-action scene, they brim with the vigor of life while the finest soft detailing of fur, skin or feather belies that they emerged from a block of wood.
This exhibition will be the first opportunity in Tokyo to introduce the complete picture of this unparalleled woodcarver, FUJITO Takeki, with more than 80 representative works from his early years to his final years.



Bears taught me everything.
FUJITO Takeki never made any sketches in the creation process. All he did was to make simple marks on the log, and then he carved out the shape at once. It was as if he could see the shapes lurking in the wood beforehand, and just took them out. FUJITO acquired this ability by carving bears incessantly. Through repeated carving, he came to understand the form of the bear and the space surrounding it.




I am a bear carver by heart, like my father was.
At the age of 34, he was commissioned to create a standing statue of Kannon, which was a major turning point in FUJITO's production. FUJITO, who had never carved anything other than bears, went to Kyoto and Nara and spent a week looking at Buddhist statues, burning them into his eyes. For six months, he devoted himself solely to this statue of the Kannon and completed the work. This was the beginning of a major expansion of FUJITO's work. Not only bears, but also figures, wolves, deer, marine creatures, and many other motifs were brought to life by FUJITO's hands and carved out of the wood. In particular, his life-size carvings of the Ainu people's ancestors express a dignified presence in their elaborate realistic depictions, which leave viewers deeply moved.
I am proud to be born Ainu.
At the age of 17, FUJITO saw a stuffed wolf at the Hokkaido University Botanical Garden and told his father that he wanted to carve a wolf. His father, however, exclaimed, "What are you talking about when you can't even carve a bear on your own?" From then on, carving a wolf became a major goal for FUJITO. By the time he was able to carve a wolf to his satisfaction, he was 70 years old. The story of the wolf and the boy" was created by FUJITO after he turned 80. It is a series of nineteen works expressing a story that he had kept in his heart. It is said that the wolf (Ezo wolf) became extinct around 1896. These works reflect FUJITO's strong wish to preserve the stories among animals, Ainu and Japanese people.

The words of FUJITO Takeki in the text are taken from "The History Inside Me, Ainu Sculptor FUJITO Takeki," Hokkaido Shimbun (September 29-October 14, 2014), and ARIMOTO Yayoi and MURAOKA Toshiya, "Carving Bears" (Shogakukan, 2017). *The phrase "as long as I am Ainu" came from his father, and FUJITO Takeki inherited the same feeling.

40's Woman

2021-08-03 22:15:02

とても素晴らしかった。一つ一つの作品に魂が込められていた。本当に心から感動した。何故か星野道夫さんを思い出した。静かな空間で、涙が溢れるのを抑えることができなかった。期間中、また訪れたいと思う。