【Finished.】



Event duration
SUN
MON
TUE
WED
THU
FRI
SAT
1
2
3
4
5
6
7
8
9
10
11
12
13
14
15
16
17
18
19
20
21
22
23
24
25
26
27
28
29
30
INFORMATION
Date
Wednesday, November 11, 2020 to Sunday, February 28, 2021
Venue
Akihabara UDX
(4-14-1, Soto-Kanda, Chiyoda-ku)
Access
・3-minute walk from JR "Akihabara Sta."
・4-minute walk from Subway "Akihabara Sta."
・3-minute walk from Subway "Suehirocho Sta."
・3-minute walk from TX "Akihabara Sta."
Organizer
Akihabara UDX
Website
https://www.udx-akibaichi.jp/
UDX Illumination 2020
UDX Illumination 2020
- 270,000 lights in Akihabara
This year's theme is "HAPPY WINTER ~To the world of dreams that makes your heart dance~". A total of 270,000 light bulbs will be illuminated in collaboration with the theme movie of Akihabara UDX and the decoration of Sawako Kabuki's illustrations, and will be placed in the trees on the west side of the street, on the 2nd floor deck on the east side, and in the Akihabara UDX Restaurant & Shop Akiba ICHI. In addition, there will also be a projection mapping near the entrance. These illuminations with light will add color to the streets of Akihabara.
At west side of Akihabara UDX, two colors of light will be shown: "blue" is to show the gratitude of the essential workers, such as medical and care workers, who are still on the front lines of the corona crisis, and "champagne gold" is to remind us of a future full of warm, gentle light, especially in these times. It lights up the streets of Akihabara with a fantastic light, switching from one to the next in every 10 minutes.
Projection mapping using the blocks of Akihabara UDX
By the entrance, Akihabara UDX's projection mapping will be shown for the first time. Santa Claus and reindeer will provide a Christmas atmosphere while making use of the blocks on the exterior wall.
| | |
| --- | --- |
| Date | Wednesday, November 11 to Friday, December 25, 2020 |
| Time | 3:00 pm ~ (may change) |
The view of the east deck on the second floor can also be enjoyed from the train.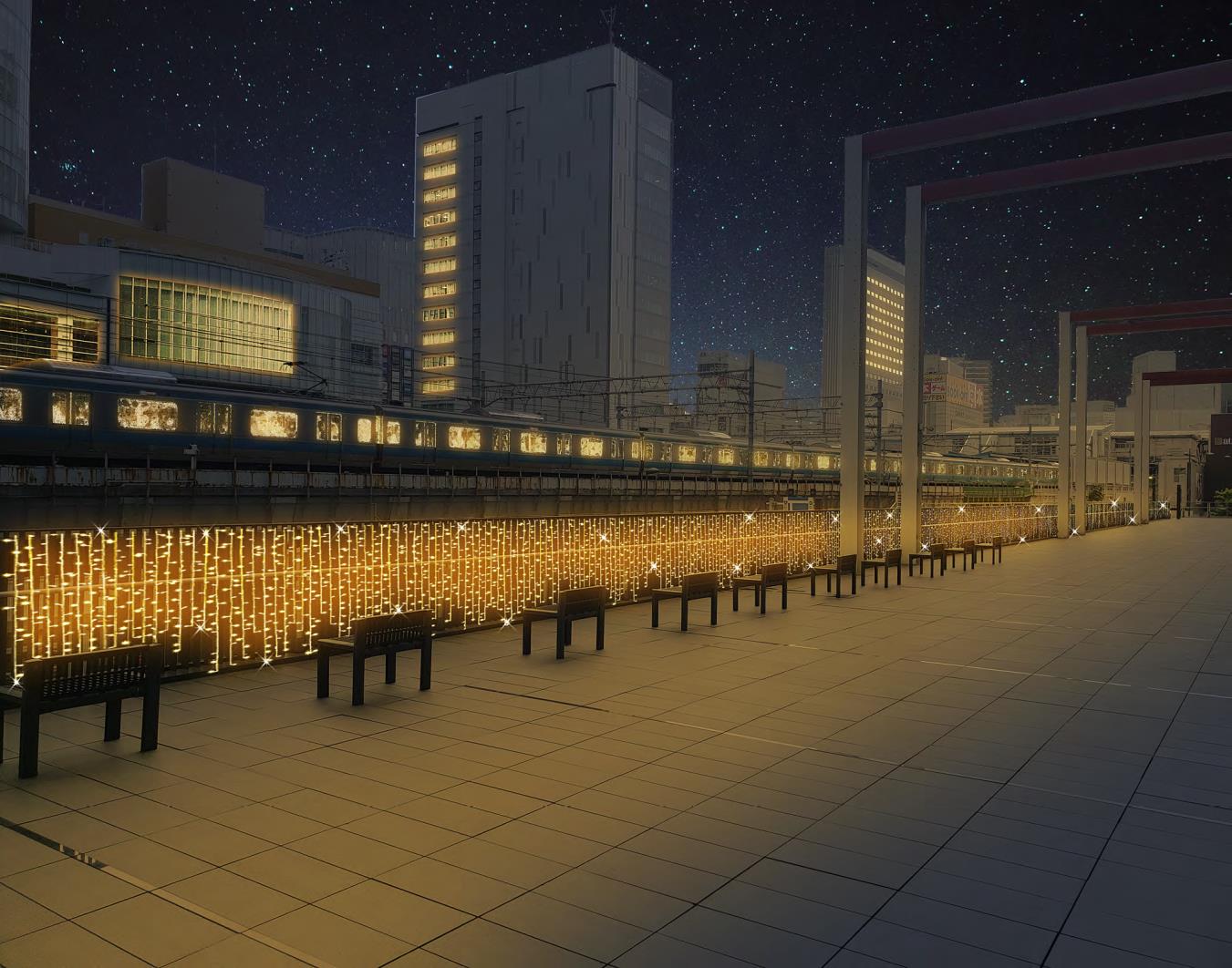 To provide warmth to as many people as possible, the 2nd floor deck will be gently illuminated for approximately 160 meters, while avoiding the Three Cs that are strongly linked to new coronavirus infection. By creating a space that can be enjoyed from the train as well, the lights on the second floor deck will provide a relaxing and warm atmosphere for people on their way home while avoiding the Three Cs.
Decoration with illustrations by Sawako Kabuki
In addition to the champagne gold illumination, the building will be decorated with illustrations by Sawako Kabuki, in conjunction with the movie of Akihabara UDX. Throughout the facility, you will see women in dresses and men in top hats and tuxedos dancing, as well as decorations with candy cane illustrations, to fully express this year's theme of "HAPPY WINTER ~To the world of dreams that makes your heart dance~".
The pictures everyone drew together will become alive! "Paper Application" & "Moving Stamp" Workshop!
Date / Time
Saturday, November 14
11:00 am - 12:30 pm
1:30 pm - 4:30 pm (may change)
*This event ends as soon as the 400 papers run out.
Fee
Free
Note
Open to passersby at any time. Only 400 people on a first-come, first-served basis. *Recommended for primary school students and younger.
*For more information, please check the website.(Website)