【Finished.】

(Added on February 28)
Considering the current situation of the coronavirus COVID-19 infection, the Idemitsu Museum of Arts announces the change of the closing day to March 1 (Sun), 2020, from originally scheduled March 22 (Sun), 2020.
Event duration
SUN
MON
TUE
WED
THU
FRI
SAT
1
2
3
4
5
6
7
8
9
10
11
12
13
14
15
16
17
18
19
20
21
22
23
24
25
26
27
28
29
INFORMATION
Date

February 11 (Tue), 2019 – February 2 (Sun), 2020

10:00 a.m.-5:00 p.m. (Entrance until 4:30 p.m.)

Friday 10:00 a.m.-7:00p.m.(Entrance until 6:30p.m.)

Closed

Monday (The Museum will be open when Monday is a national holiday.), the year-end and New Year holidays, and the change of exhibits.

*The museum is closed on Monday except January 13, 2020.
*Closed for year-end and New Year holidays (December 23 (Mon) , 2019 - January 3 (Fri) , 2020)

Address

Idemitsu Museum of Arts

9th Floor, Teigeki Bldg., 3-1-1,Marunouchi, Chiyoda-ku, Tokyo, 100-0005

Transportation

A 5-minute walk from Kokusai Forum Exit of JR Yūrakuchō Station or a 3-minute walk from B3 Exit of Subway Yūrakuchō and Hibiya Stations.

Admission

Adults: ¥1,000
High School and College Students: ¥700
Junior High School Students or Younger: Free (with Parent or Guardian)
Groups of 20 or more: ¥200 Discount, each

* ¥200 Discount for Persons with Disability (with Presentation of the Physical Disability Certificate and Free Admission for one Caretaker)

Website
http://idemitsu-museum.or.jp/en/
Introduction to Ceramic― Enjoying Color, Design and Form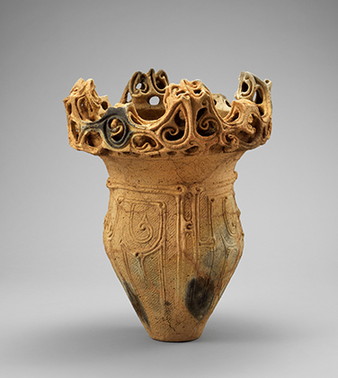 深鉢形土器(火炎土器) 縄文時代中期 出光美術館
Ceramic production in Japan began in the Jōmon period, going back some 16,000 years. Starting from this primitive pottery, Japanese ceramics developed by learning kiln production and glazing techniques introduced from China and Korea, continuing to receive strong influences in design and form. On the other hand, one can see a new stylistic esthetic created within the original Japanese culture, in vessels for tea ceremony, flower arrangement, and festivities in the later periods. The history of Japanese ceramics will be surveyed, hoping to introduce the evolution of the beauty captured in ceramics.