【Finished.】



Event duration
SUN
MON
TUE
WED
THU
FRI
SAT
1
2
3
4
5
6
7
8
9
10
11
12
13
14
15
16
17
18
19
20
21
22
23
24
25
26
27
28
29
30
31
INFORMATION
Date/Time
Saturday, December 7, 2019 to Sunday, February 9, 2020
Monday to Thursday 10:00 - 19:00 (Last Entry 18:30)
Friday to Sunday 10:00 - 20:00 (Last Entry 19:30)
January 1 to 3 and Holidays 10:00 - 20:00 (Last Entry 19:30)
Venue
Kanda Myoujin Shrine EDO Culture Complex B1F "EDOCCO STUDIO"
2-16-2 Soto kanda, Chiyoda-ku, Tokyo
Access

5-minute walk from JR "Ochanomizu Sta."
7-minute walk from JR "Akihabara Sta."
5-minute walk from Subway "Ochanomizu Sta."
5-minute walk from Subway "Suehirocho Sta."

Sponsors
Chiyoda Central Culture Foundation
CoCoRo Co., LTD.
Planning, production and direction
OFFICE MIGOTO LTD. (JAPAN × ART × ILLUMINATION)
Contact
info@edotokyoakari.com
Website
http://edotokyoakari.com
Edo Tokyo Akari Exhibition
produced by JAPAN × ART × ILLUMINATION
Introducing "Illumination from all over Japan" from Kanda Myoujin Shrine to the world! This is the first interactive exhibition.
A new story will be told by "Analog × Digital" illuminations.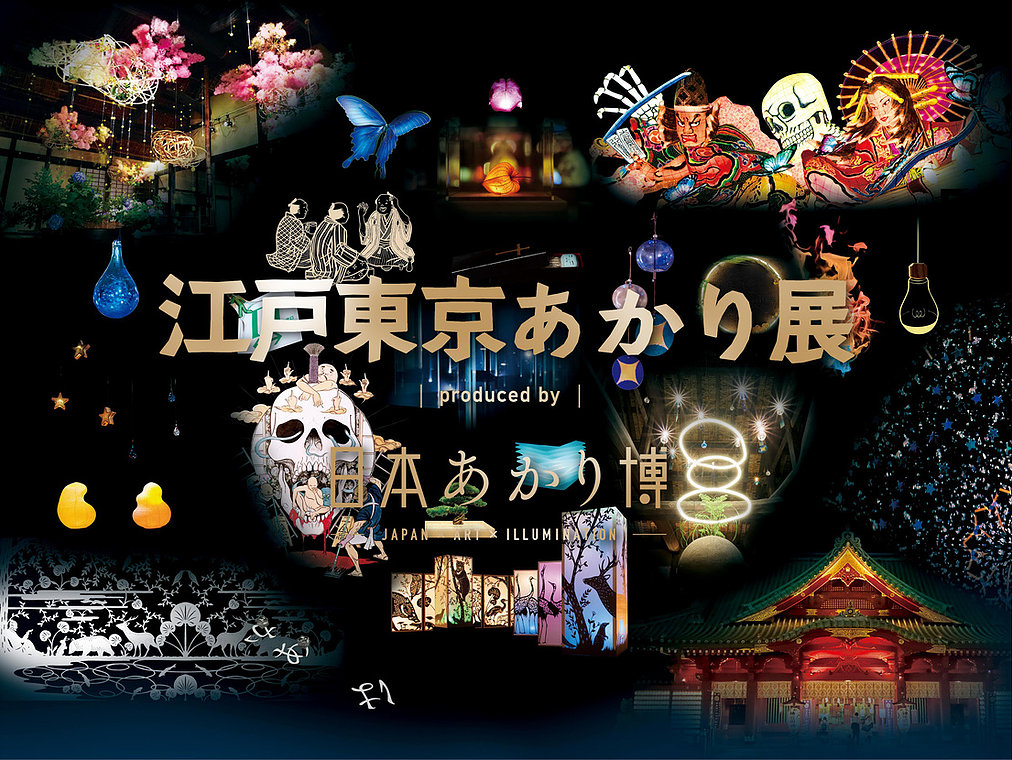 Creators from all over Japan gathered for this first exhibition. Five genres such as "Art", "Festival", "Design", "Craftsman" and "Technology" get together as one through "illumination" and create new world in the historical place of Kanda Myoujin Shrine.
The most distinctive feature is the "Artistic attractions" which combines an art exhibition with attraction elements, allowing visitors to experience something not seen in traditional art exhibitions. The audience can not only watch art works, but also approach performers and art works.
Depending on the choice of the guest, "Ending of the story", "Works that can be seen" and "Display effect" will change. In addition, the staff with acting skills will invite guests to the world of attractions as storytellers. One of the features is that you can experience "Analog Interactive" through analog 3D works such as "Aomori Nebuta", which respond to the guest's request .
This exhibition also takes on the challenge of "Fuse digital technology with analog art" which is not in the existing art exhibition.

This is one of the largest art exhibitions of light in Japan. The art team involved in the project is a team that launched the largest Japanese light art exhibition in Tokyo with a cumulative total of 310,000 visitors. At the UK's largest Japan Expo in London last year, they also held their first light art exhibition, and they are a special group producing "Akari × Art" who are active both in Japan and abroad.

For more details, please visit the official website.
⇒http://edotokyoakari.com
30's male

2019-12-23 07:17:57

非常に楽しかった。
近代と古典文化の融合から本質に触れる体験の切っ掛けとなりました。

大人から子供まで楽しめます。

50's Woman

2020-01-26 10:30:16

きめ細やかな設定
金曜日の夜、混んでいないので1つ1つじっくり観賞出来ました。
なるほど、そういう事なのねって事が多くて面白かった。
行って良かった。とても楽しかったー(^^)