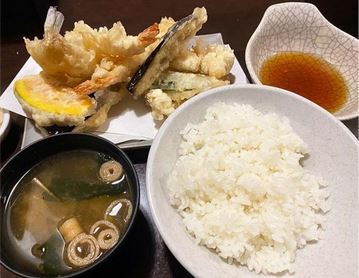 INFORMATION
address

1-19 Kanda Jimbocho, Chiyoda-ku, Tokyo

business_hour

Weekdays 11:00-21:00
Weekends and holidays 11:00-20:30

access

3-minute walk from Jimbocho Station on Hanzomon Subway Line
3 minutes walk from Jimbocho Station, Toei Shinjuku Line
The good old Showa era atmosphere! Kanda Tempura Hachimaki, a restaurant associated with Edogawa Rampo that serves delicious, long-established tempura rice bowls at a popular price.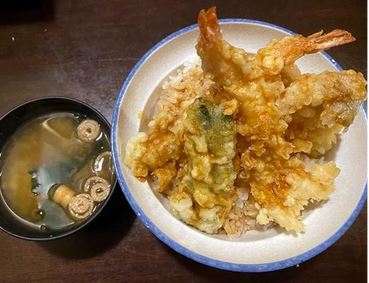 Kanda Tempura Hachimaki is a tempura restaurant located along Jimbocho Suzuran Street. This popular restaurant serves tempura made from fresh seafood and seasonal vegetables purchased at the market at a reasonable price. The tempura is deep-fried right in front of you at the counter, so you can enjoy the aroma of sesame oil, the heat of the air, and the live atmosphere of the craftsmanship while enjoying the delicious, freshly fried, hot, crispy tempura.
The tempura bowl includes two prawns, a kiss, squid, and vegetables for only 1,000 yen. With prices soaring these days, this quality at such a reasonable price is so valuable that it should be designated as an endangered species in Chiyoda Ward for permanent preservation. Especially during lunch time, you will inevitably have to queue up to get a great deal on long-established tempura bowls.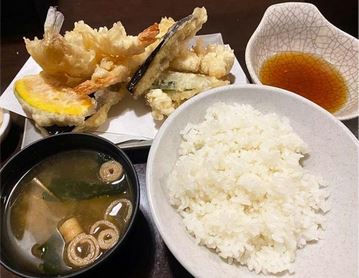 The tempura set meal features freshly fried crispy tempura and a refreshingly sweet tempura sauce that goes great with white rice. The fu miso soup poured into a generous bowl is also very tasty, with a hint of dashi broth that will sink deeply into your body. If you visit Jimbocho, be sure to stop by "Kanda Tempura Hachimaki".