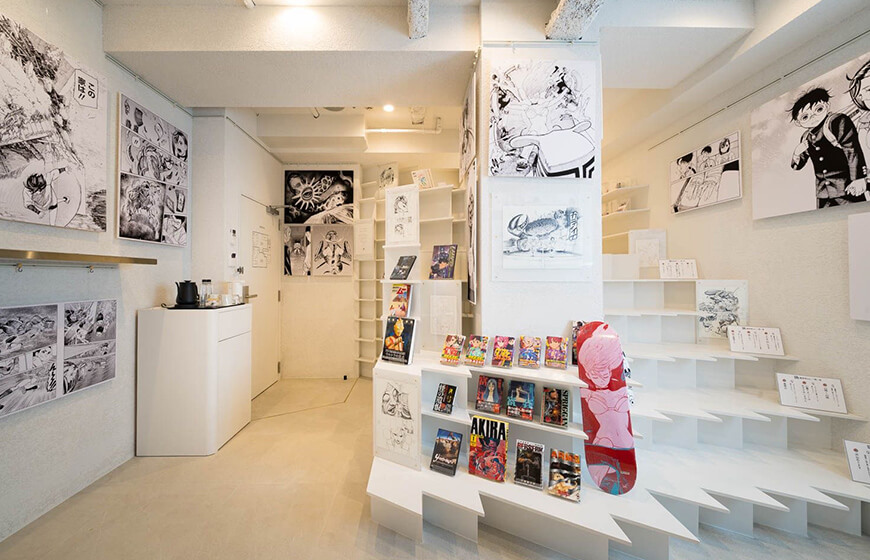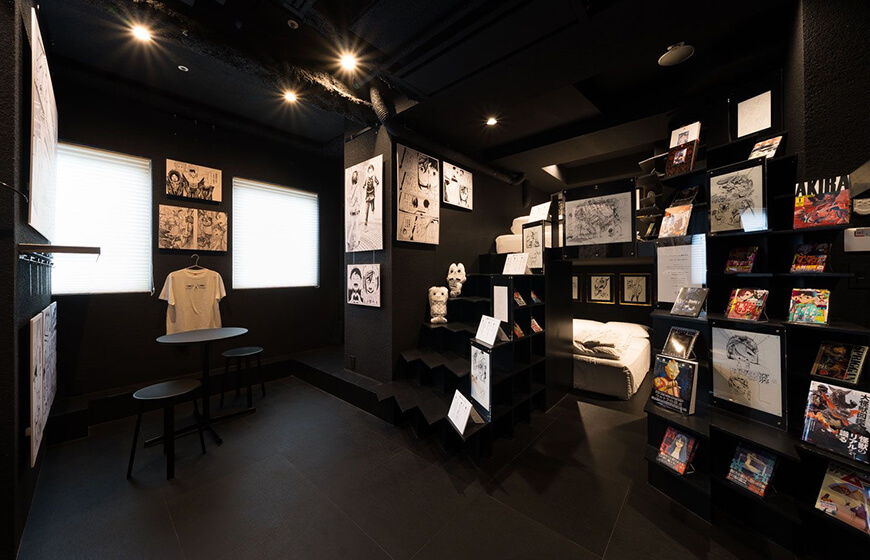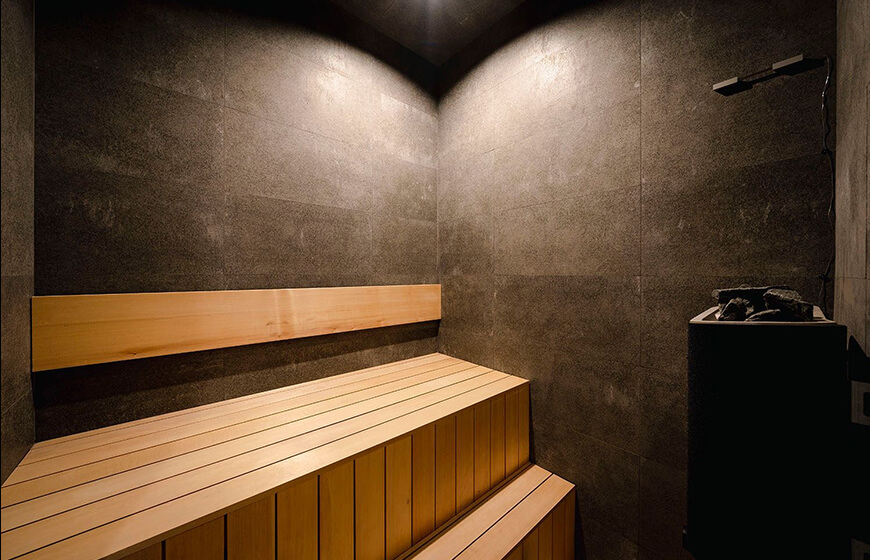 INFORMATION
address

2-5-13 Kanda-Jimbocho, Chiyoda City, Tokyo

tel

03-6380-8228

business_hour

8:00 a.m. - 10:00 p.m.
Note: Check-in time is until 11:00 p.m.

access

1-minute walk from Subway Jimbocho Sta. Exit A1
A perfect environment for concentrating on manga. The MANGA ART ROOM, JIMBOCHO, a hotel complete with a private sauna for guests.
Manga Art Room, Jimbocho is located on the 12th floor of Book Hotel Jimbocho, one minute walk from Jimbocho Station. This is a private room hotel with a private sauna, where various innovations have been facilitated to allow a complete immersion into the world of manga.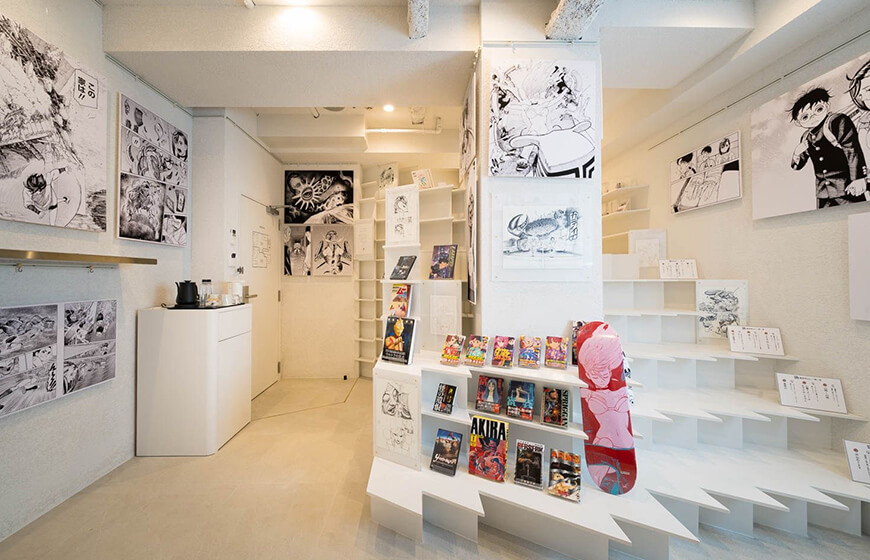 Manga Art Room, Jimbocho opened in September of 2022 with cooperation by the editorial department of Shueisha Inc., Shonen Jump +. There are a total of two rooms, each designed according to the concept of a Cave for Manga, with the all-white room Manga Cave White, and the all-black room Manga Cave Black. Each room is designed in a motif which evokes the basic structural elements of manga, which are primarily colored in black and white.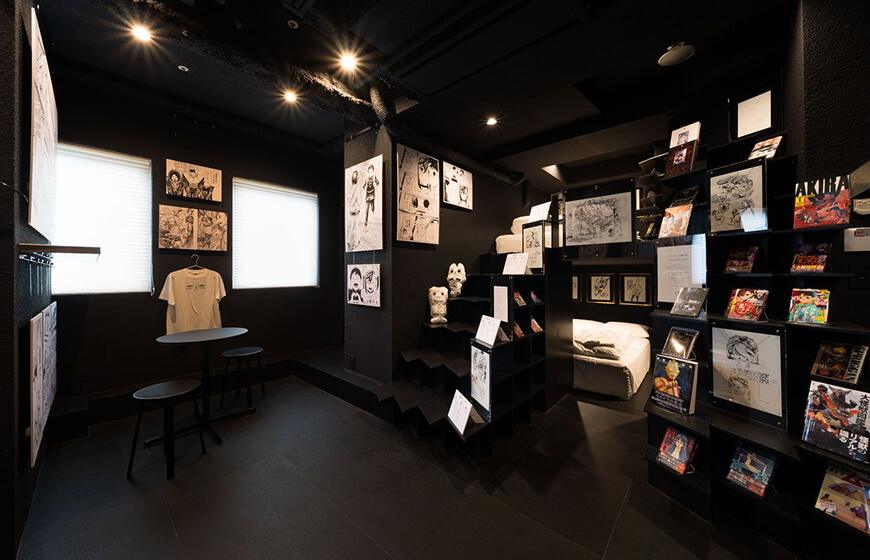 Dozens of manga of various genres are available in the room. Every manga is accompanied by recommendatory comments written by the manga sommeliers on their staff. There are two beds, one in the loft space up the indoor stairs and the other in the secluded space below. Each bed is designed to function like a secret hideaway, creating an atmosphere that is perfect for lounging while reading manga.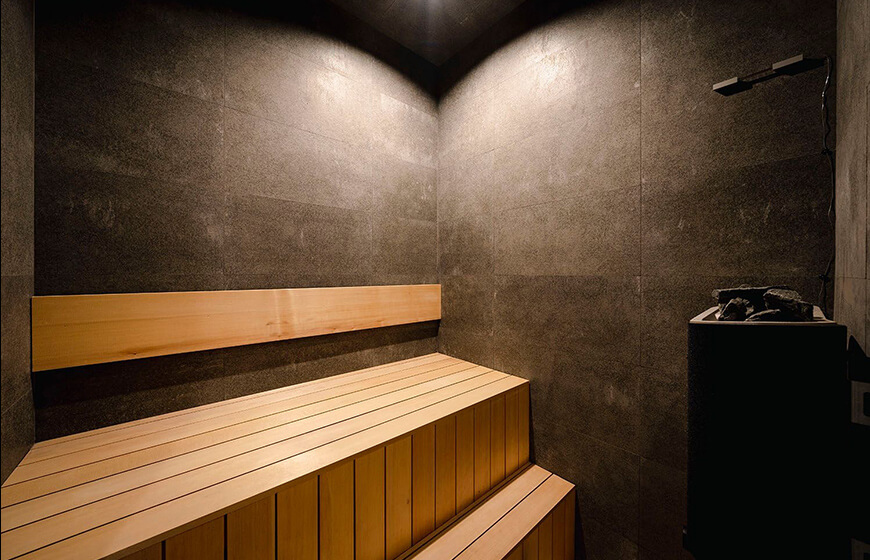 The clean, private sauna can accommodate up to two people. The ability to self-löyly to your preferred temperature is another appealing feature of this room. Furthermore, the room is equipped with a rain shower to cool your body after heating up in the sauna, as well as a space to sit and relax. After refreshing yourself in the sauna, you will be able to concentrate even better on reading your manga.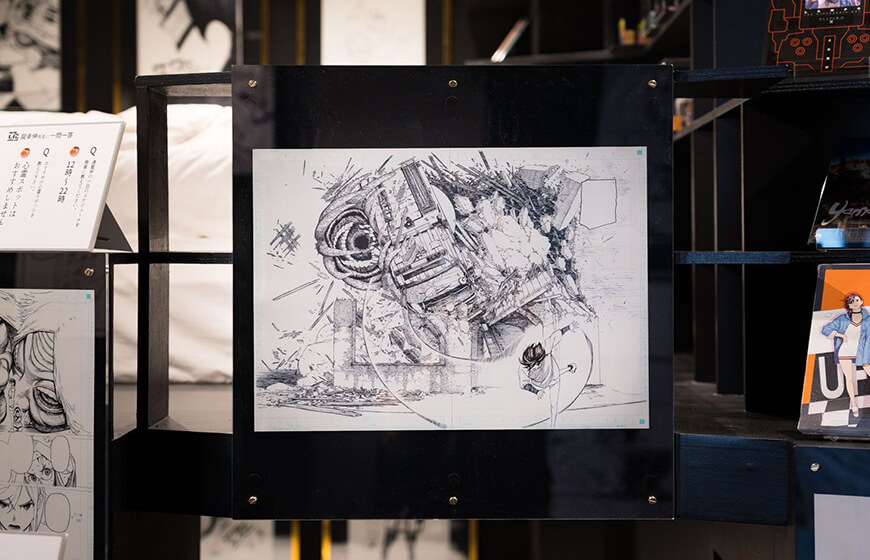 Manga Art Room, Jimbocho will periodically hold collaboration events with popular mangas. During the events, on the 12th floor and in guest rooms, they will display contents related to the works, such as reproductions of original drawings and artwork, names (rough drafts), and questions and answer sessions featuring the manga artist. This is the only hotel where you can have the exhibits of your favorite works all to yourself and take a good look at them.
"At Manga Art Room, Jimbocho, you can also take advantage of the Book Matching Service offered at Book Hotel Jimbocho. If you fill out a questionnaire by 10:00 p.m., two days prior to your stay, the staff member in charge will prepare a manga suitable for you at check-in time.
Manga lovers will be excited to visit Manga Art Room, Jimbocho. You will have a special experience where you can forget reality and read manga wholeheartedly. "
*The information is current as of October 2022.