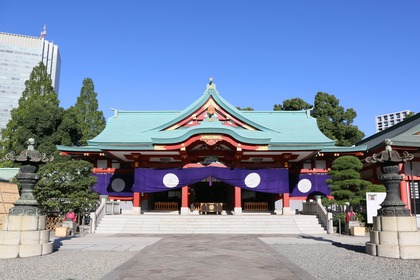 (Important Cultural Property of Japan: Main Hall of Hie Shrine)
Hie Shrine enshrines the god of Mount Hiei, Oyamakui-no-kami, also known as Sanno-sama.
It was found in 1478 when Oyamakui-no-kami was moved from Kawagoe to the grounds of the Edo Castle.
When Tokugawa Ieyasu took over Edo , the shrine remained in its original location, but the second shogun had it moved out to the site of Motosanno (Hayabusachō).
Hie Shrine was highly revered as the home of the guardian deity of the Shoguns. Sanno Festival of Hie Shrine is considered one of the three major festivals of Tokyo. The Shinkosai procession held every other year year was honored by the Shoguns.
The main hall of Sanno Inari Shrine was built in1659, a significant construction of the early Edo period.
INFORMATION
address

2-10-5 Nagatacho, Chiyoda-ku

tel

03-3581-2471

access

5 minutes' walk from Exit 5 of Kokkai-gijido-mae Station
3 minutes' walk from Exit 7 of Tameike-sanno Station