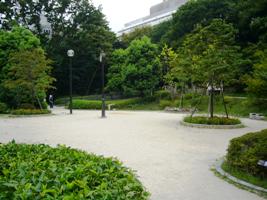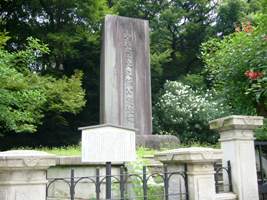 "Shimizudani Park is a 3-minute walk from the Akasaka-mitsuke Station and a 5-minute walk from the Nagatacho Station.
With a spacious area of more than 10,000 square meters, the park is filled with seasonal trees and is home to the Shinji-ike pond, a recreational plaza, and a 6.27-meter-tall memorial to OKUBO Toshimichi."
INFORMATION
address

2 Kioicho, Chiyoda-ku

access

・3-minute walk from Subway "Akasaka-mitsuke Sta."
・5-minute walk from Subway "Nagatacho Sta."
・8-minute walk from Subway "Kojimachi Sta."
Phone
03-5211-4243
(Chiyoda City Roads and Parks Division)
Shimizudani Park, famous for cherry blossom and autumn foliage viewing, is where the memorial to OKUBO Toshimichi stands
During the Edo period (1603-1868), the area was known as the Shimizudani valley because the Kishu Tokugawa, Owari Tokugawa, and Ii families had residences here, and fresh water would gush out from between the Kishu and Ii homes. This is reproduced in the Shinji-ike pond found there today.
In 1878, after the Meiji Restoration, OKUBO Toshimichi, one of the three great nobles of the Restoration, was on his way to the Imperial Palace in Akasaka when the Kioizaka Incident, in which he was assassinated by SHIMADA Ichiro, a samurai from Ishikawa Prefecture, broke out here. This incident shocked the world at the time, and a monument to OKUBO Toshimichi was erected at the site, which later became Shimizudani Park.
Later, in 1890, the land in the area was donated to the city of Tokyo, and as part of the city's urban planning strategy, the park was opened as the Shimizudani Park. In 1956, the park became a metropolitan park, and in 1965, it was transferred to the Chiyoda City, where it remains today.
Incidentally, Hotel New Otani Tokyo now stands on the site of the Ii family's former residence, and the Tokyo Garden Terrace Kioicho and the Sophia University campus stand on the site of the Kishu Tokugawa family's residence and the Owari Tokugawa family's residence respectively.
Shimizudani Park is also characterized by its seasonal scenery. In spring, the Somei Yoshino and weeping cherry trees bloom, and the avenue of double-flowered cherry trees facing the park turns the area peach-colored. In the fall, the leaves of the trees and ginkgo trees begin to change color, giving visitors a sense of the changing of the seasons.
Shimizudani Park is a place where you can enjoy history involving OKUBO Toshimichi, and the expressions of each of the four seasons. Although surrounded by high-rise buildings, Shimizudani Park will make you forget the hustle and bustle of the city. In addition to cherry blossom viewing, autumn foliage viewing, and historical spots, it is also great to just sit on a bench here, relax, and take in the nature.
40's male

2021-09-14 17:34:17

いつも通勤経路で公園前を通らせて頂いています。いつも美観に努めて頂き朝の通勤で心を癒やされています。誠にありがとうございます。近頃季節の変わり目で難しいかと思いますが緑以外の色の花などを勝手ながら期待しています。宜しくお願い致します。

20's male

2021-09-15 09:10:31

車で通ることがあるのですが、都心でありながら、綺麗な自然がとても魅力的だなと見させていただいてます。特に八重桜は素敵で癒されています。
今度はゆっくり園内のベンチで楽しみたいと思っています。

30's male

2022-04-19 18:10:57

清水谷公園が花もあり、すごくきれいになって良くなっていると思います。
八重桜もきれいなので人もいっぱいいて雰囲気がいいですね。
東京タワーみたいに鯉のぼりなど季節ごとの催しがあるとさらに良さそうですね。