【Finished.】



Special Exhibition at The National Museum of Modern Art, Tokyo
Event duration
SUN
MON
TUE
WED
THU
FRI
SAT
1
2
3
4
5
6
7
8
9
10
11
12
13
14
15
16
17
18
19
20
21
22
23
24
25
26
27
28
29
30
INFORMATION
Date/Time
Friday, June 18 to Sunday, September 26, 2021 10:00 am - 5:00 pm (open until 9:00 pm on Fridays and Saturdays)
*Last admission : 30 minutes before closing.
Closed
Mondays (except July 26, August 2, 9, 30, and September 20),
August 10 and September 21
Venue
Special Exhibition Gallery (1st floor) of The National Museum of Modern Art, Tokyo (3-1, Kitanomaru-koen, Chiyoda-ku, Tokyo)
Access
3-minute walk from Subway "Takebashi Sta." Exit 1b
Admission
Adults: 1,300 yen (1,100 yen) College/University students: 800 yen (500 yen)
*Admission in the parentheses is for groups of 20 persons or more.
*All prices include tax.
*Admission is free for high school students, under 18, and those with Disability Certificates and one caregiver accompanying each of them. Please present ID at the entrance.
*Students and faculty members of Campus Members enrolled schools can enter at a group rate by showing their student ID and staff ID. *Including the admission fee for MOMAT Collection.
Organized by
The National Museum of Modern Art, Tokyo Agency for Cultural Affairs, Government of Japan Japan Arts Council
With the sponsorship of
TAISEI CORPORATION , TAIYO CONSTRUCTION CO.,LTD. , HASEKO Corporation , DAIKO ELECTRIC CO.,LTD. , Dai Nippon Printing Co., Ltd. , MAEDA CORPORATION , ITOKI CORPORATION , OBAYASHI CORPORATION , KAJIMA CORPORATION , KOKUYO Co.,Ltd. , KOMATSUMATERE Co.,Ltd. , SATOHIDE CORPORATION , SHIMIZU CORPORATION , JR East Design Corporation , Sumitomo Forestry Co., Ltd. , TAIYO KOGYO CORPORATION , Daiwa House Industry Co., Ltd. , Daiwa Lease Co., Ltd. , TAKENAKA CORPORATION , TANSEISHA Co., , Ltd. , TSUCHIYA CORPORATION , TOKYU CONSTRUCTION CO., LTD. , TOTO LTD. , TODA CORPORATION , NOMURA Co., Ltd. , FUJISASH CO.,LTD. , Sumitomo Mitsui Construction Co., Ltd. , MEIKEN LAMWOOD Corp. , KISHINOUE CONSTRUCTION
With the cooperation of
NVIDIA Corporation , KOMATSU MATERE Co.,Ltd. , Snow Peak Inc. , Toyama City , Nagaoka City , HP Japan Inc. , HAMADA SHOYU Co., Ltd. , V&A Dundee , Maniwa City , Minamisanriku Town , ModuleX Inc. , MONOFACTORY Co., Ltd , YAMAGIWA Corp. , Yusuhara Town
With the support of
The Obayashi Foundation
Contact
Phone: 050-5541-8600(Hello Dial)
Website       
https://kumakengo2020.jp/ (Exhibition Website)
*The exhibition schedule and contents may change due to the spread of the new coronavirus infection. Please check the website of The National Museum of Modern Art, Tokyo for details. https://www.momat.go.jp/ (Museum Website)
Kuma Kengo:
Five Purr-fect Points for a New Public Space

This is a major solo exhibition of the work of KUMA Kengo (b. 1954), one of Japan's leading contemporary architects, which includes his participation in the design of Japan National Stadium, scheduled to serve as the main venue for the Tokyo 2020 Olympic and Paralympic Games. KUMA's buildings, designed to blend in harmoniously with the local environment and culture wherever they are located, naturally draw large numbers of visitors who spend significant amounts of time there. Among them is the design museum V&A Dundee, which opened in 2018 in Scotland and was selected as one of "Time magazine's list of the world's greatest places to visit in 2019."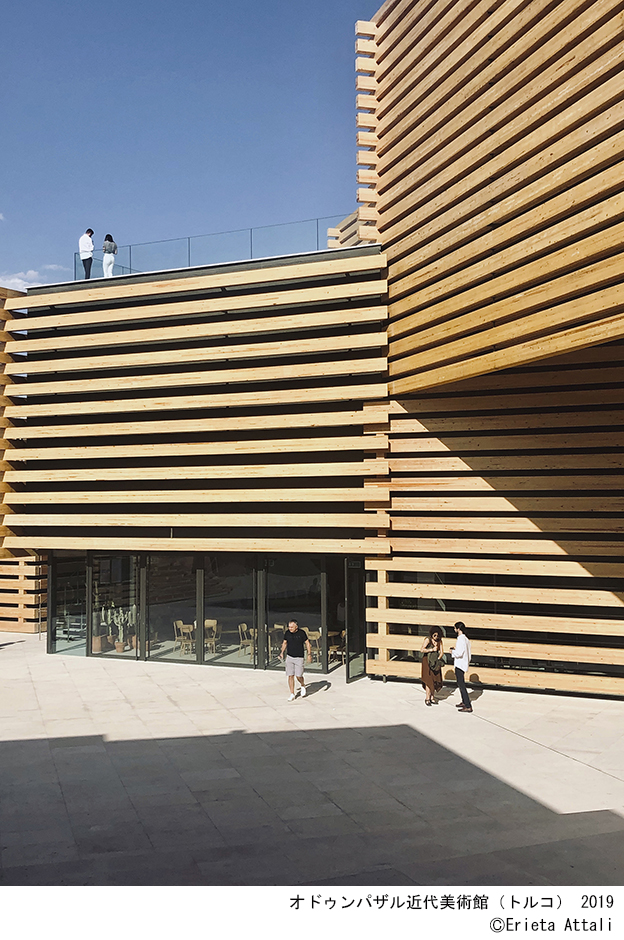 Odunpazari Modern Museum (Turkey) 2019 ©Erieta Attali

This exhibition features designs selected from among the KUMA projects, with a focus on those of a highly public nature, and each is introduced via a description of the work by KUMA himself. Here, the point of focusing on the public sector is to showcase not only large-scale public structures such as newly built government offices, but also small-scale projects such as renovated restaurants. The designs are categorized according to five principles that Kuma has conceived – "hole," "particles," "oblique," "softness," and "time" – and presented in the form of models, photographs, and mockups. In addition, video works have been commissioned from cutting-edge contemporary artists such as TAKIMOTO Mikiya, FUJII Hikaru, and the McGloughlin Brothers, and visitors will be immersed in a space that highlights not only formal aspects of KUMA's architecture, but also how it is utilized and how it relates to the surrounding community. There will also be a 360-degree VR simulation that allows people to experience interior spaces with maximum realism. Also on view will be the results of "A Plan for Tokyo, 2020: Five Purr-fect Points for Feline Architecture," a research project that reinterprets the urban environment from the perspective of cats. In the belief that our current era calls for exploring new ideas for the city by looking at it not from above, as in Japan's postwar period of rapid economic growth (c.1954-1972), but from below, KUMA arrived at the idea of adopting cats' vantage point. For this exhibition, he collaborated with the design engineering firm Takram and conducted fieldwork and GPS tracking in Tokyo's Kagurazaka neighborhood, and presents the study's outcomes using 3D computer graphics and projection mapping. The organizers' hope is that this exhibition, which will take place during a time of numerous challenges due to the COVID-19 crisis, will offer valuable opportunities to think in new ways about public space and the future of the city.
Born 1954. Before establishing Kengo Kuma and Associates (KKAA) in 1990, he received his Master's Degree in Architecture from the University of Tokyo, where he is currently a university professor and professor emeritus. Having been inspired by TANGE Kenzo's Yoyogi National Gymnasium, built for the 1964 Tokyo Olympics, KUMA decided to pursue architecture at a young age, and later entered the Architecture program at the University of Tokyo, where he studied under HARA Hiroshi and UCHIDA Yoshichika. After his time as a visiting scholar at Columbia University in New York, he established his office in Tokyo. Since then, KKAA has designed architectural works in over twenty countries and received prestigious awards, including the Architectural Institute of Japan Award, the Mainichi Art Award, the Minister of Education, Culture, Sports, Science and Technology's Art Encouragement Prize, the Spirit of Nature Wood Architecture Award (Finland), and the International Stone Architecture Award (Italy), among others. KKAA aims to design architecture which naturally merges with its cultural and environmental surroundings, proposing gentle, human scaled buildings. The office is constantly in search of new materials to replace concrete and steel, and seeks a new approach for architecture in a post-industrial society.
1. KUMA's Unique Approach to "Places Where People Gather" Explored Through Five Principles
KUMA feels that there is something soul-crushing about the 20th century's concrete and steel structures, and his goal is to create more human-friendly architecture. This exhibition explores his methodology for a new public space, i.e. for the various places where people gather, through 68 works classified under the five principles of "hole," "particles," "oblique," "softness," and "time."
2. High-Tech Experiential Exhibits
"Real," immersive experiences of KUMA's architecture are offered through new video works produced for this exhibition.
1) Six KUMA Projects in Yusuhara, Kochi, by TAKIMOTO Mikiya (with SAKAMOTO Ryuichi) Yusuhara, a small mountain town in Kochi Prefecture, Japan, is home to six KUMA projects ranging from the early years to his latest work. The photographer and filmmaker TAKIMOTO Mikiya filmed these sites with a high-speed camera and created a compellingly real 4K video installation. With music by SAKAMOTO Ryuichi, it immerses viewers in the beauty of these works inspired by traditional Japanese architecture.

2) Time-Lapse Film of the V&A Dundee KUMA Kengo was selected to design the V&A Dundee, the first branch of the Victoria and Albert Museum outside London. Here it is dynamically captured in an avant-garde time-lapse video by the Ireland-based McGloughlin Brothers.

3) 360-Degree VR Simulation of the Highly Popular "TOYAMA Kirari" TOYAMA Kirari, a multi-purpose complex in Toyama Prefecture, Japan housing a library, museum, and bank, has a distinctive structure with a soaring oblique atrium. A drone was flown in this space, and filmed it to produce a 360-degree virtual reality simulation. Wearing a head-mounted display, visitors can plunge into a full-body experience of KUMA's architectural space, which lasts approximately seven minutes. *Admission to the 360-degree VR simulation is limited to those aged 13 and up.
3. KUMA Looks to Cats to Show Us the City's Future
In 1961, in advance of the 1964 Tokyo Olympics, the architect TANGE Kenzo (1913-2005) published "A Plan for Tokyo 1960," a groundbreaking proposal to build a floating city over Tokyo Bay, in an architectural journal. As a response to this legendary proposal, here KUMA presents the results of "A Plan for Tokyo, 2020: Five Purr-fect Points for Feline Architecture," a research project that reinterprets the urban environment from a very different perspective.
While TANGE looked at the city from above when creating his plan for a human-built megastructure on the water, KUMA arrived at the idea of looking at it from below, from the vantage point of cats. He collaborated with Takram, one of Japan's top design engineering firms, on the presentation of this heartwarming yet radical vision.
4. Video Produced with the Cooperation of the Public and the Client
The artist FUJII Hikaru filmed everyday activities unfolding at Nagaoka City Hall Aore, enlisting the help of local volunteers and NPOs to document this city office which has such a vibrant scene that people visit from all over Japan. Meanwhile, the artist TSUDA Michiko visited the town of Minamisanriku in Miyagi Prefecture and Kumamoto City, Kumamoto Prefecture and filmed interviews with their mayors, building users, and clients on the theme of disaster recovery and architecture. Of course, there is also a video interview with KUMA himself.
5. Special Presentation of Models and Lighting for Japan National Stadium
6. Exhibition design by Kengo Kuma and Associates (KKAA)
The exhibition was designed by Kengo Kuma & Associates. All chapter descriptions and artwork commentaries are written by KUMA Kengo.