【Finished.】

INFORMATION
Date
Feb,15,2020(Sat.)13:00~15:00 (Reception12:30)
Place
Japan Education Center / Nihon Kyoiku-kaikan
HitotsubashiHall(Address: 2-6-2 Hitotsubashi, Chiyoda-ku, Tokyo)
Access
Toei Subway Shinjuku Line or Hanzomon Line
– get off at Jimbocho Station(A1 Exit)and 3minutes' walk
Toei Subway Mita Line
– get off at Jimbocho Station(A1 Exit) and 5minutes' walk
Fee
FREE EVENT
We present
The 31st Meeting to think about the Folk entertainment and Rural life
Our story
"NAGAWA SHISHI-MAI" Performance of local Folk entertainment from Matsumoto-Nagawa
Web
https://www.znk.or.jp/event/
Nagawa Shishi-mai
LIVE!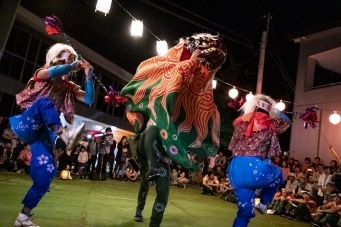 "Meeting to think about the Folk entertainment and Rural life" has two main purposes. One is that we appreciate the traditional entertainments that have been transmitted to the "rural areas", which are the hometowns of the Japanese heart. The other is that we think about the current situation of Agriculture, Forestry and Fishery together with urban residents by knowing the lifestyles of the rural areas concerning their traditional entertainments.
This time, we, JA Tourism & Communications will welcome those of the preservation society of " NAGAWA SHISHI-MAI", which has been transmitted to Matsumoto-city, Nagano Prefecture, and would like to show its performance to urban residents.
"NAGAWA SHISHI-MAI" has been passed down since the early Taisho Period (1912-1926) to
Nagawa Yoriaido District (Present Matsumoto-city), Nagano Prefecture. Since there is no high school in Nagawa, the youths are forced to leave their hometown to attend high school in other districts. As a result, the number of youths decreases year by year. Every year in September, it is customary for younger generations to return to their hometown to practice "Shishi-mai(※1)".
This plays an important role to make a strong connection with their hometown.
(※1) "Shishi-mai", a Japanese lion dance, is one of the traditional Japanese performing arts, in which performers imitate lion's movements in their lion costumes to festival music..
<Schedule> 
12:30
Reception
Room 703 (on the 7th floor)
※ We look forward to having you join us.
13:00
Introduction of "Shishi-mai"
Enjoy talking with our Japanese staffs in English or French, seeing display items.
About the nature, history, culture and people's lives of Nagawa, Nagano Prefecture, including Nagawa "Shishi-mai"
13:40
Break time
Move to the Theater Hall in the same building
14:00
Special performance of
Folk entertainment
Special performance of Folk entertainment at the Theater Hall
15:00
Closing
※Some schedules, time, and performances, etc. may be changed without notice.
Conditions and rules in the hall:
1) Eating, drinking and taking photographs with the electronic flash are prohibited.
2) Taking movies is applicable at the place indicated by a sponsor.
<Application by the Internet ( using Meetup®) "JA Tourism & Communications">
・Only you have to do is apply from "Meetup" website.
・Please access "Meetup" website and apply our Free Event of "Nagawa Shishi-mai" special performance.