【Finished.】



From "Connect" to "Tie".
"WHITE KITTE" has been renovated.
INFORMATION
Date/Time
November 20 (Wed) to December 25 (Wed)
Venue
JP Tower "KITTE"
2-7-2 Marunouchi, Chiyoda-ku, Tokyo
Access
About 1-minute walk from JR "Tokyo Sta. " (Marunouchi South Exit)
Directly connected via underground passage from Tokyo sta. on the Marunouchi Line.
Sponsor
Japan Post Co., Ltd.
Planning and management
JP Building Management Co., Ltd.
Website
http://jptower-kitte.jp/
WHITE KITTE
A heart-warming Christmas
This year, "WHITE KITTE" will be renovated for the first time since its opening.
As Japan draws attention from all over the world in 2020, "WHITE KITTE" will be reborn this winter with the hope that as many customers as possible will have a hearty and enjoyable time, based on the facility concept of "Japaneseness and Novelty" that KITTE has cherished.

Until now, KITTE has aimed to be a place to "connect" customers to Japanese craftsmanship, good old things and new things.
In order to renew and strengthen every encounter KITTE have had with customers since its establishment, it will deepen the relationship from "Connect" to "Tie" through the new "WHITE KITTE".

Looking ahead to the year 2020, we will express KITTE's aim to "Tie" the World and Japan, people and people, heart and heart with a new Christmas tree that uses "Mizuhiki", a traditional Japanese craft knitted one by one by craftsmen.
Various events will be held during the period so that you can spend a wonderful time there.
Please look forward the new "WHITE KITTE" based on modern technology with "Mizuhiki", which has been established as a symbol of gifts to "Tie" from old times.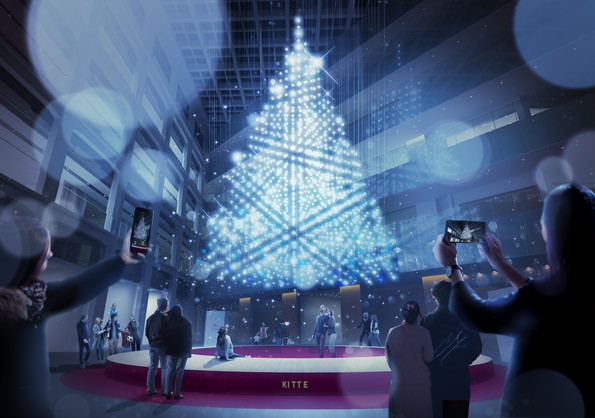 Please visit the official website for more information.
http://jptower-kitte.jp/